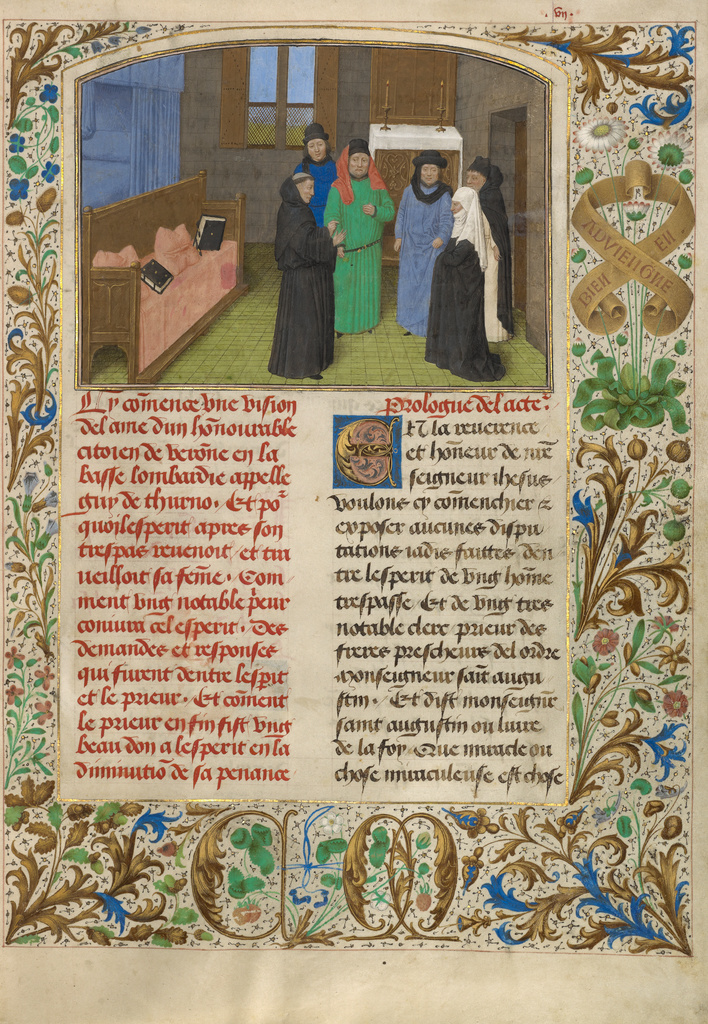 This image is available for download, without charge, under the Getty's Open Content Program.

A Priest and Guy's Widow Conversing with the Soul of Guy de Thurno

Simon Marmion (Flemish, active 1450 - 1489)David Aubert (Flemish, active 1453 - 1479) Leaf: 36.4 x 25.7 cm (14 5/16 x 10 1/8 in.) Ms. 31, fol. 7
Open Content images tend to be large in file-size. To avoid potential data charges from your carrier, we recommend making sure your device is connected to a Wi-Fi network before downloading.
Title:
A Priest and Guy's Widow Conversing with the Soul of Guy de Thurno
Place:
Ghent, Belgium (Place created)

Medium:
Tempera colors, gold, and ink on parchment bound by Trautz-Bauzonnet between pasteboard covered with modern
Dimensions:
Leaf: 36.4 x 25.7 cm (14 5/16 x 10 1/8 in.)
Illuminated & Calligraphic Manuscripts (February 14 to April 1, 1955)
Houghton Library, Harvard University (Cambridge), February 14 to April 1, 1955
Le Siècle d'Or de la Miniature Flamande: Le Méçénat de Philippe le Bon (1959)
Palais des beaux-arts (Brussels), 1959
Two Thousand Years of Calligraphy (June 6 to July 18, 1965)
Walters Art Museum (Baltimore), June 6 to July 18, 1965
Illuminated Flemish Manuscripts of the Late Middle Ages (July 26 to October 16, 1988)
The J. Paul Getty Museum (Malibu), July 26 to October 16, 1988
Vie a mon desir: Illuminated Manuscripts and Their Patrons (April 18 to July 2, 1989)
The J. Paul Getty Museum (Malibu), April 18 to July 2, 1989
Recent Acquisitions of Illuminated Manuscripts, 1984-1989 (July 17 to September 30, 1989)
The J. Paul Getty Museum (Malibu), July 17 to September 30, 1989
"The Visions of Tondal" and Manuscripts from the Time of Margaret of York (April 17 to July 1, 1990)
The J. Paul Getty Museum (Malibu), April 17 to July 1, 1990
Illuminated Devotional Manuscripts (October 16 to December 30, 1990)
The J. Paul Getty Museum (Malibu), October 16 to December 30, 1990
Manuscripts and Americans: An Exhibition in Honor of Franklin D. Murphy (July 21 to October 18, 1992)
The J. Paul Getty Museum (Malibu), July 21 to October 18, 1992
Fouquet's Century: Transformations in French Painting, 1415-1530 (April 26 to July 10, 1994)
The J. Paul Getty Museum (Malibu), April 26 to July 10, 1994
Devotion and Desire: Views of Women in the Middle Ages and Renaissance (July 25 to October 8, 1995)
The J. Paul Getty Museum (Malibu), July 25 to October 8, 1995
Flemish Illumination of the Late Middle Ages (November 3, 1998 to January 17, 1999)
The J. Paul Getty Museum at the Getty Center (Los Angeles), November 3, 1998 to January 17, 1999
Illuminating the Renaissance: The Triumph of Flemish Manuscript Painting in Europe (June 17, 2003 to February 22, 2004)
The J. Paul Getty Museum at the Getty Center (Los Angeles), June 17 to September 7, 2003
Royal Academy of Arts (London), November 29, 2003 to February 22, 2004
---