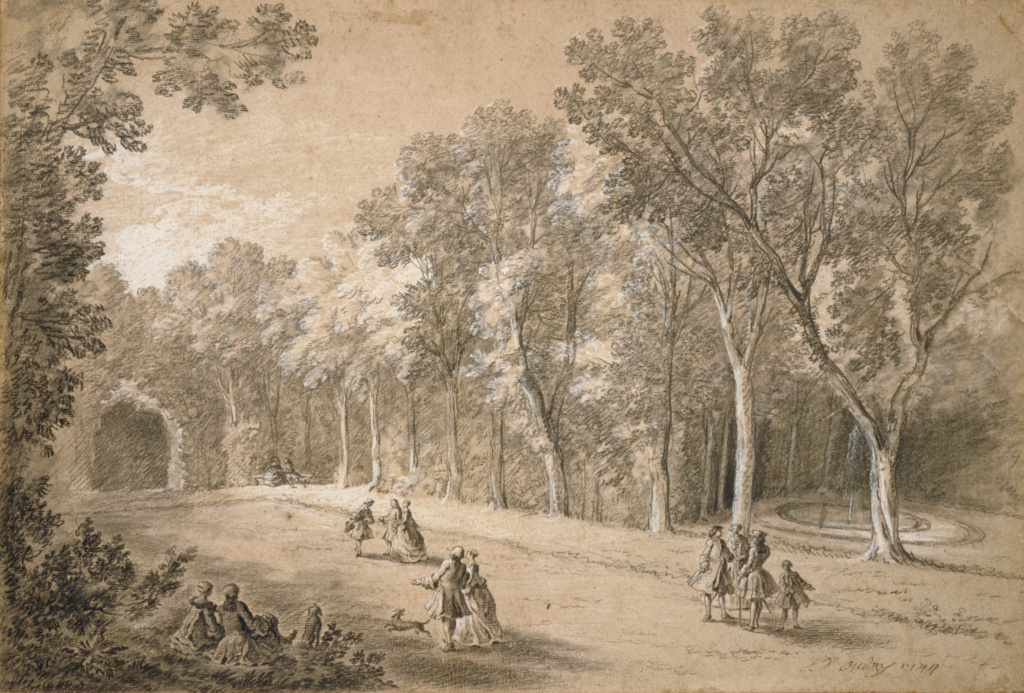 Open Content images tend to be large in file-size. To avoid potential data charges from your carrier, we recommend making sure your device is connected to a Wi-Fi network before downloading.
Not currently on view
Medium:
Black and white chalk on tan paper
Dimensions:
35.1 × 51.4 cm (13 13/16 × 20 1/4 in.)
Before the total destruction of the gardens of Arcueil, [Jean-Baptiste Oudry] never failed to go and draw there whenever he had a moment's leisure.... One could always find people sketching, and everyone eagerly consulted M. Oudry; in these picturesque pastimes he excelled like an instructor in his class.

Thus wrote Oudry's biographer in the 1800s. Many of Oudry's nearly fifty large-scale park scenes from between 1744 and 1747 depict these gardens of Arcueil, at the Prince de Guise's chateau near Paris, which were destroyed not long after. Oudry's landscape drawings, of which approximately one thousand still exist, combine a love of nature; a free, rapid drawing style; and a sensitivity to the effects of light.

Here Oudry used white chalk sparingly for subtle highlights on the tan paper. He created depth with a strong receding diagonal line and black chalk markings ranging from the dark foreground to the lighter areas of the sky. Scholars are uncertain whether Oudry or a later artist added the figures.
European Landscape Drawings of the 15th through 19th Century (October 6 to December 13, 1992)
The J. Paul Getty Museum (Malibu), October 6 to December 13, 1992
18th and 19th Century Drawings (March 15 to May 29, 1994)
The J. Paul Getty Museum (Malibu), March 15 to May 29, 1994
Drawn Toward Nature: Landscapes and Gardens in Ancién-Regime France (June 13 to August 27, 1995)
The J. Paul Getty Museum (Malibu), June 13 to August 27, 1995
Landscape Drawings 1500 - 1900 (June 9 to August 23, 1998)
The J. Paul Getty Museum at the Getty Center (Los Angeles), June 9 to August 23, 1998
Carmontelle's Transparency: An 18th Century Motion Picture (2000) (March 14 to May 28, 2000)
The J. Paul Getty Museum at the Getty Center (Los Angeles), March 14 to May 28, 2000
Drawing the Landscape: 1500 - 1800 (January 23 to April 15, 2001)
The J. Paul Getty Museum at the Getty Center (Los Angeles), January 23 to April 15, 2001
French Drawings from the Age of Greuze (September 10 to December 1, 2002)
The J. Paul Getty Museum at the Getty Center (Los Angeles), September 10 to December 1, 2002
Carmontelle's Transparency: An 18th Century Motion Picture (March 14 to June 18, 2006)
The J. Paul Getty Museum at the Getty Center (Los Angeles), March 14 to June 18, 2006
Capturing Nature's Beauty: Three Centuries of French Landscapes (July 28 to November 1, 2009)
The J. Paul Getty Museum at the Getty Center (Los Angeles), July 28 to November 1, 2009
---