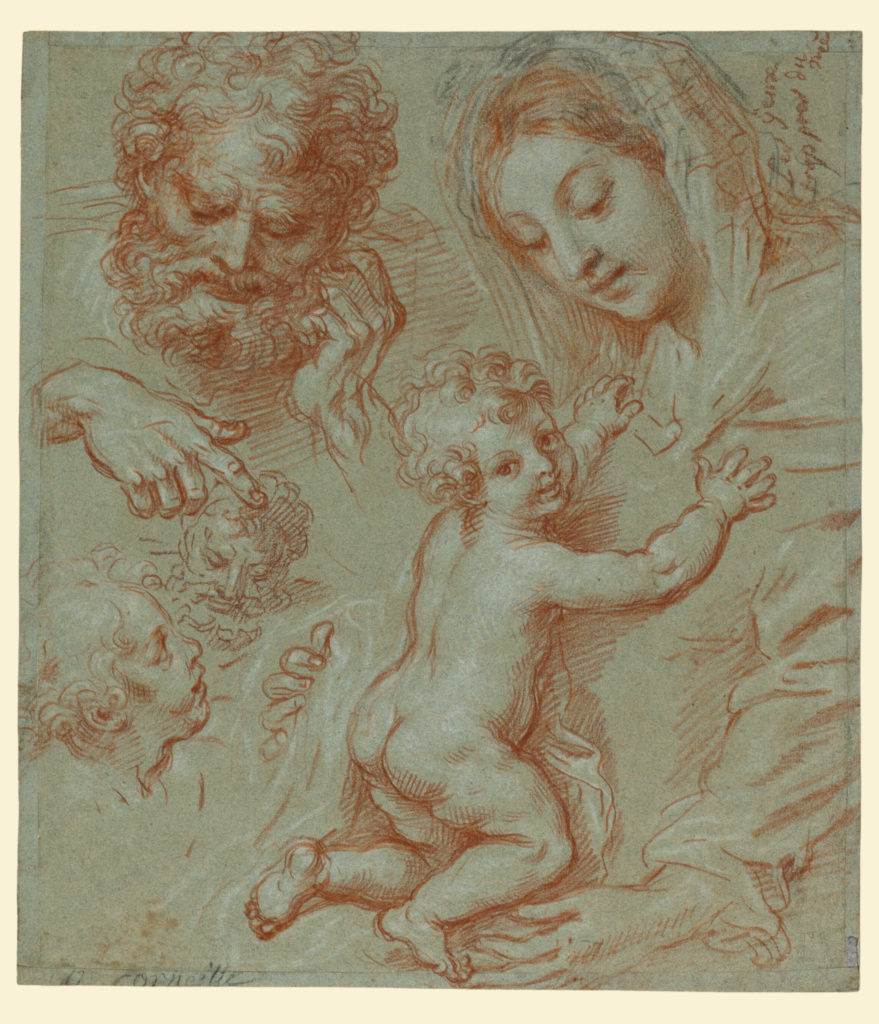 Open Content images tend to be large in file-size. To avoid potential data charges from your carrier, we recommend making sure your device is connected to a Wi-Fi network before downloading.
Not currently on view
Title:
Studies of the Madonna and Child and of Heads (recto); Madonna and Child with Saint John Seated in a Landscape (verso)
Medium:
Red, black, and white chalk on blue paper (recto); Pen and brown ink and brown wash over black chalk (verso)
Dimensions:
31 x 27.3 cm (12 3/16 x 10 3/4 in.)
On one side of this sheet, the recto, Michel Corneille the Younger described the faces and bodies of the Madonna and Child and additional heads, possibly Saint Joseph and the infant Saint John the Baptist, in red chalk. Red chalk had long been popular for drawing the human figure and for rendering pinkish-tan flesh tones because of its rosy color. By liberally laying in white chalk, Corneille created a sensuous play of light over the Christ Child's skin and described the diaphanous fabric loosely draped around the fleshy infant's body. To further heighten the brilliance of the red and white chalks, he chose blue paper as his support. The combination of red, white, and black chalk is a technique known by French term coined in the 1700s, aux trois crayons.

On the verso, Corneille drew the Madonna and Child with Saint John Seated in a Landscapein pen and ink, suggesting tonal areas with brown wash and black chalk. The copying of figures from the recto and the more complete nature of the composition suggest that the verso drawing was made after the recto. The interior framing lines and the precise outlined figures suggest that this drawing was made in preparation for an engraving.
-
Private Collection France
---