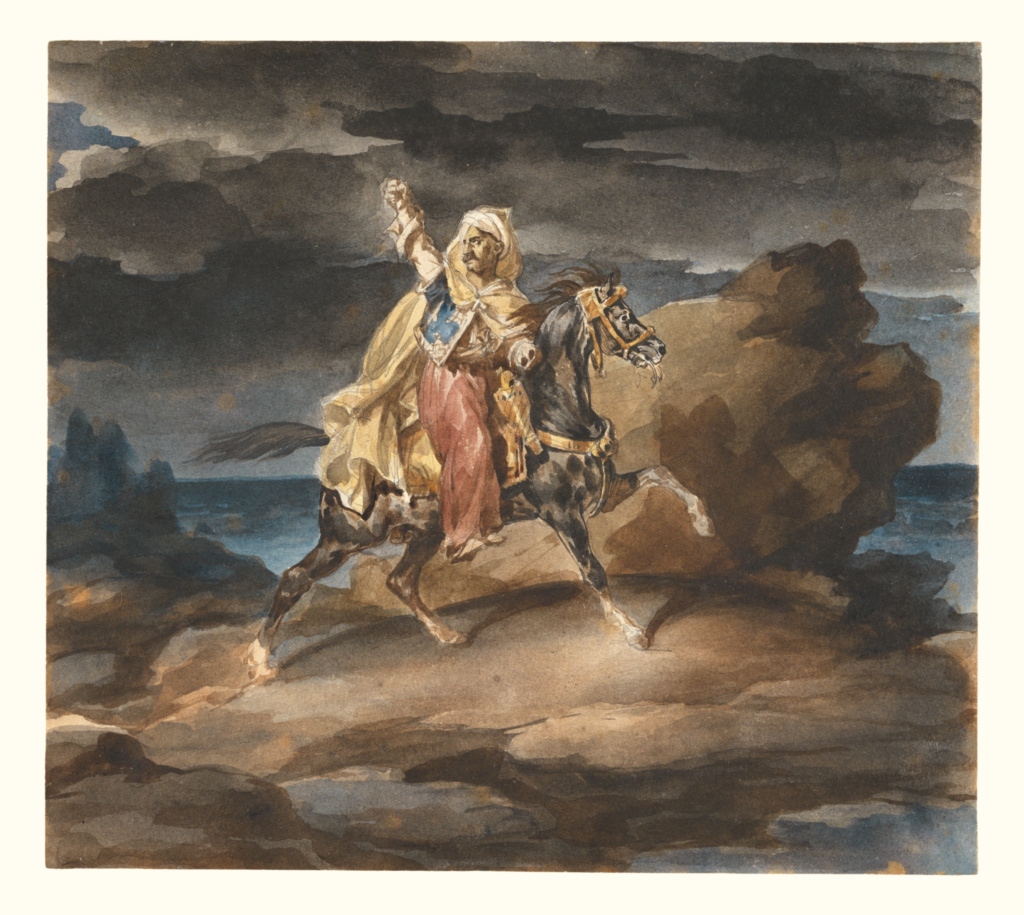 Open Content images tend to be large in file-size. To avoid potential data charges from your carrier, we recommend making sure your device is connected to a Wi-Fi network before downloading.
Not currently on view
Dimensions:
21.1 × 23.8 cm (8 5/16 × 9 3/8 in.)
His brow was bent, his eye was glazed;
He raised his arm, and fiercely raised,
And sternly shook his hand on high
As doubting to return or fly….

Taken from English Romantic poet Lord Byron's work of 1813, The Giaour: A Turkish Tale, these verses inspired the French Romantic painter Théodore Géricault to make this well-known watercolor. The dramatic story of an Arab Christian living as an infidel within his Muslim homeland tapped the vogue for Orientalism, which stemmed in part from Napoleon's recent campaigns in Egypt and Syria. Géricault's choice of subject matter was also affected by his passion for horses, which he often represented with great sensitivity.

On a visit to England in 1820, Géricault learned the British style of watercolor painting, which emphasized translucent washes that allowed the white of the paper to shine through. After faintly sketching the giaouron the verso of this sheet, he used the translucency of the watercolor to render the Arabian stallion's shining coat and the dramatically lit sky and ground in this finished drawing. The lithograph made after the drawing less effectively expresses the Romantic sense of drama.
-
Hans Eduard Bühler, 1893 - 1967
November 15, 1985
Christie's (London), [lot 58]
Géricault: Romantic Paintings and Drawings (January 28 to March 26, 1989)
California Palace of the Legion of Honor (San Francisco), January 28 to March 26, 1989
Drawings from the J. Paul Getty Museum (May 24 to August 8, 1993)
The Metropolitan Museum of Art (New York), May 24 to August 8, 1993
Drawings from the J. Paul Getty Museum (October 29, 1993 to January 23, 1994)
Royal Academy of Arts (London), October 29, 1993 to January 23, 1994
The Compositional Drawing from the 16th to the 19th Century (April 16 to June 30, 1996)
The J. Paul Getty Museum (Malibu), April 16 to June 30, 1996
Color in Drawing (March 10 to May 24, 1998)
The J. Paul Getty Museum at the Getty Center (Los Angeles), March 10 to May 24, 1998
To Create a Living Art: 19th Century Drawings (May 1 to July 15, 2001)
The J. Paul Getty Museum at the Getty Center (Los Angeles), May 1 to July 15, 2001
Constable to Delacroix: British Art and the French Romantics (February 5, 2003 to January 4, 2004) (Catalogue by P. Noon et.al.)
The Metropolitan Museum of Art (New York), October 7, 2003 to January 4, 2004
The Prismatic Palette: Four Centuries of Watercolors (October 5, 2004 to January 2, 2005)
The J. Paul Getty Museum at the Getty Center (Los Angeles), October 5, 2004 to January 2, 2005
Defining Modernity: European Drawings 1800-1900 (June 5 to September 9, 2007)
The J. Paul Getty Museum at the Getty Center (Los Angeles), June 5 to September 9, 2007
Recent Acquisitions in Context (August 24 to November 21, 2010)
The J. Paul Getty Museum at the Getty Center (Los Angeles), August 24 to November 21, 2010
---