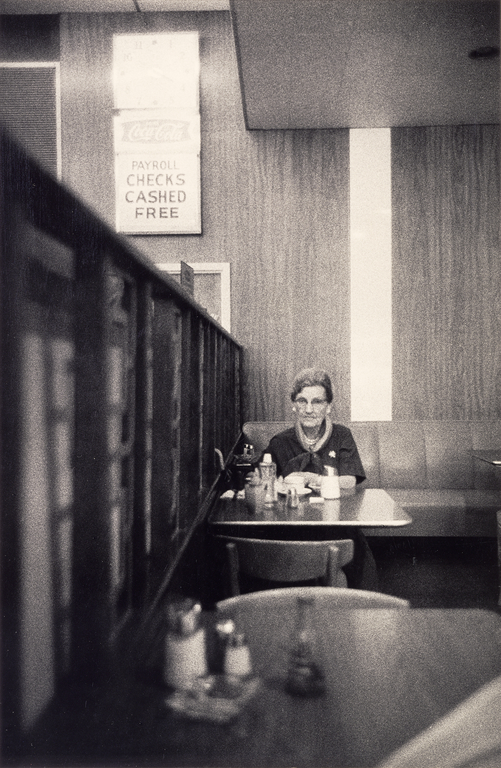 Memphis

William Eggleston (American, born 1939) 24.1 × 15.9 cm (9 1/2 × 6 1/4 in.) 2002.38.8
Not currently on view
Place:
Memphis, Tennessee, United States (Place Created)

Dimensions:
24.1 × 15.9 cm (9 1/2 × 6 1/4 in.)
Copyright:
© Eggleston Artistic Trust, 2002
Object Description
William Eggleston made this image from a two-person table in a Memphis diner, the collection of shakers and condiment jars on the tabletop in front of him blurred by the camera's close proximity. Eggleston focused on an older woman having coffee at the next table, who returns his gaze. A bright stripe on the wall behind her and a nearby neon clock sign also vie for the camera's attention. The sign's message, "payroll checks cashed free," addresses the diner's working-class patrons--a friendly message in an alienating interior.

Diners are ubiquitous places, fixtures of American road culture where inexpensive food can be had quickly. The diner is also an iconic subject of twentieth-century American art; it featured in Edward Hopper's paintings of the 1930s and Robert Frank's photographs in The Americans, published in the 1950s. Eggleston's image extends their theme of lone city dwellers sitting forlornly in harshly lit eating establishments, looking as if they are trapped there.
Exhibitions
Strange Days: Photographs from the Sixties by Winogrand, Eggleston, and Arbus (July 1 to October 5, 2003)
The J. Paul Getty Museum at the Getty Center (Los Angeles), July 1 to October 5, 2003
Education Resources
| Education Resource | Subjects | Grades | Format |
| --- | --- | --- | --- |
| Lesson in which students engage in visual and written activities that support the creative process of choreographing a solo dance composition. | Visual Arts; Dance | 9-12 | Three/Five-Part Lesson |
---