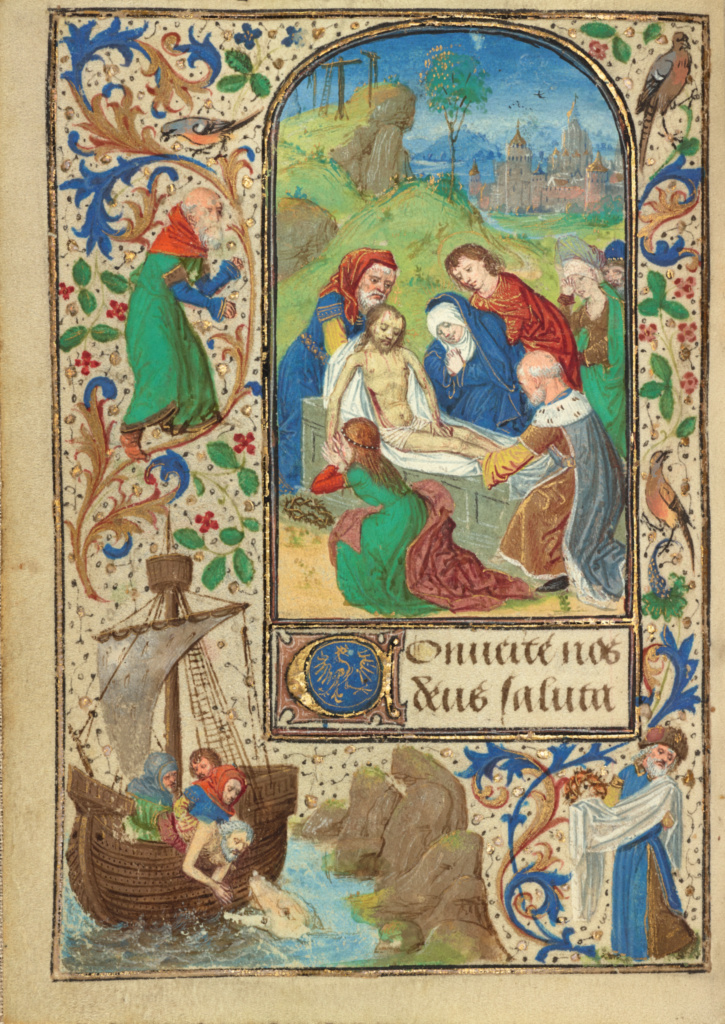 The Entombment

Lieven van Lathem (Flemish, about 1430 - 1493) Leaf: 12.4 x 9.2 cm (4 7/8 x 3 5/8 in.) Ms. 37, fol. 119v
Place:
Antwerp (illuminated) Belgium Ghent (written) Belgium (Place created)

Medium:
Tempera colors, gold leaf, gold paint, silver paint, and ink on parchment
Dimensions:
Leaf: 12.4 x 9.2 cm (4 7/8 x 3 5/8 in.)
In this intimate book of hours, the miniature of the Entombment introduces the service of Compline in the Hours of the Passion. Before a deep, receding landscape background, Jesus' followers, including two richly clad gentlemen, Joseph of Arimathea and Nicodemus, place his limp body in a sarcophagus. Kneeling, Mary Magdalen reverently leans over to kiss Jesus' hand. On the other side of the sarcophagus, the Virgin Mary and Saint John the Evangelist also mourn. Expanding the meaning of the central scene, the artist included in the border on the lower left the Old Testament episode of Jonah swallowed by the great fish. This episode which was understood as a prefiguration of Jesus' Entombment; just as Christ rose after three days in the tomb, Jonah emerged unharmed after three days in the belly of the fish.
Out of Bounds: Images in the Margins of Illuminated Manuscripts (September 1 to November 8, 2009)
The J. Paul Getty Museum at the Getty Center (Los Angeles), September 1 to November 8, 2009
---