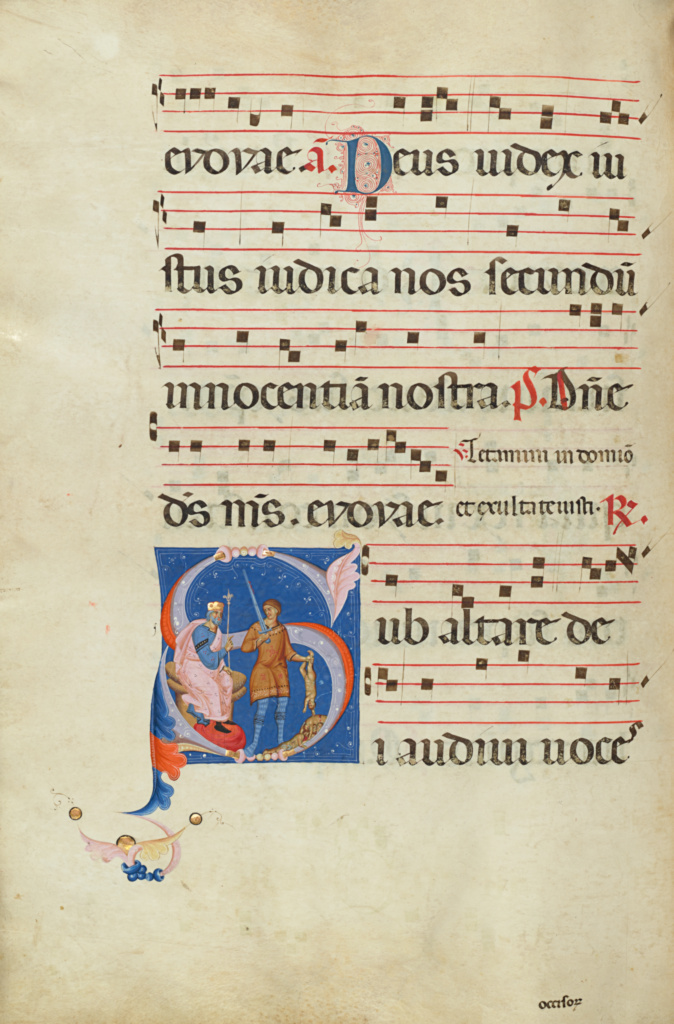 Open Content images tend to be large in file-size. To avoid potential data charges from your carrier, we recommend making sure your device is connected to a Wi-Fi network before downloading.
Title:
Initial S: The Massacre of the Innocents
Place:
Bologna, Emilia-Romagna, Italy (Place created)

Medium:
Tempera colors, gold leaf, and ink on parchment
Dimensions:
Leaf: 58.3 x 40.2 cm (22 15/16 x 15 13/16 in.)
The subject of the historiated initial S, which accompanies one of the chants for the Feast of the Holy Innocents, is the event known as the Massacre of the Innocents. Herod, the king of the Jews at the time of Jesus' birth, became jealous when a prophecy foretold that a child born in Bethlehem would usurp him.

In the initial, Herod sits at the left, giving the order for the massacre of all male children under the age of two. To the right, a soldier prepares to kill another helpless victim, seemingly oblivious to the cries of the child he holds callously by the leg. Herod's light pink garb and the soldier's delicately decorated tunic and armor, with elegant linear designs, dots, scrolls, and sprays of leaves, form a jarring contrast to the blood-stained sword and the pitiful heap of infant heads and corpses.
The Art of Devotion in the Middle Ages (August 28, 2012 to February 5, 2013)
The J. Paul Getty Museum at the Getty Center (Los Angeles), August 28, 2012 to February 5, 2013
---