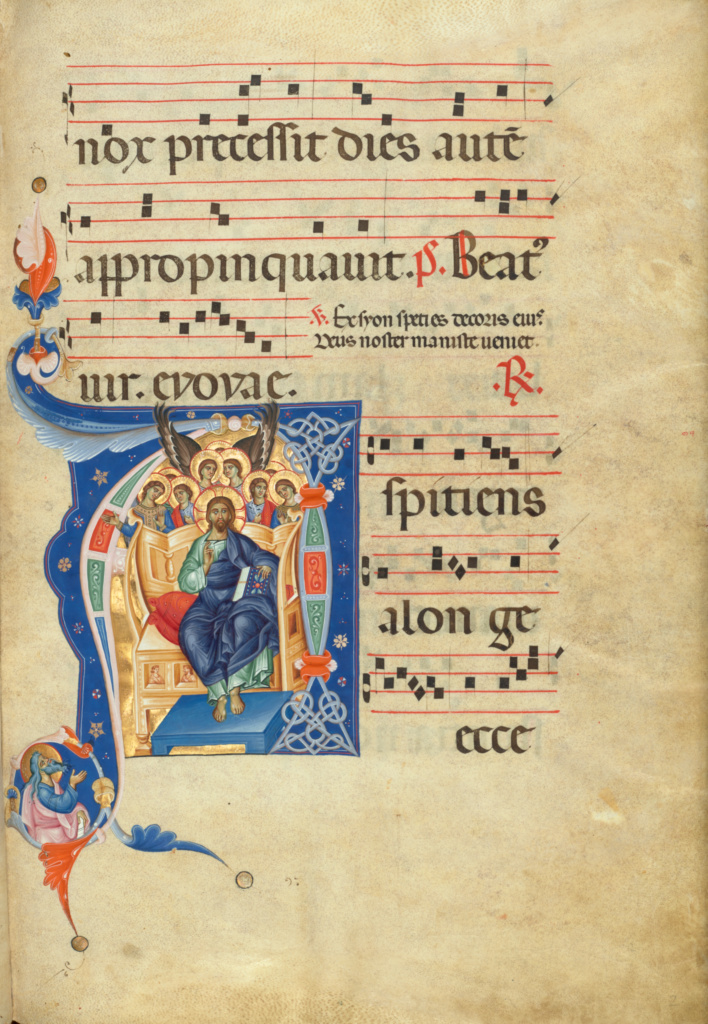 Not currently on view
Title:
Initial A: Christ in Majesty
Place:
Bologna, Emilia-Romagna, Italy (Place created)

Medium:
Tempera colors, gold leaf, and ink on parchment
Dimensions:
Leaf: 58.3 × 40.2 cm (22 15/16 × 15 13/16 in.)
A historiated initial A with Christ in Majesty, the first and largest illumination in this antiphonal from Bologna, accompanies a chant for the pre-dawn prayer service for the first Sunday in Advent, the season of preparation for Christmas. In the chant the singer describes how he "sees the coming power of the Lord," referring to Christ's return at the end of time, when he will sit in judgment of all humanity. From the roundel at the lower left, the prophet Isaiah, whose words provided the inspiration for the text of the chant, "sees" Christ. The illuminator has depicted Jesus as a massive, authoritative figure in voluminous draperies, sitting frontally on an ivory throne and attended by a group of winged angels. The book he holds, the Book of Life mentioned in the Apocalypse in the New Testament, contains a list of the saved and the damned.
Gothic Manuscript Illumination: 1250-1375 (January 16 to March 13, 1985)
The J. Paul Getty Museum (Malibu), January 16 to March 31, 1985
The Decorated Letter (July 21 to October 6, 1987)
The J. Paul Getty Museum (Malibu), July 21 to October 6, 1987
Illuminated Choir Books of the Middle Ages and Renaissance 1995 (April 25 to July 9, 1995)
The J. Paul Getty Museum (Malibu), April 25 to July 9, 1995
Masterpieces of Medieval and Renaissance Manuscript illumination (December 16, 1997 to March 22, 1998)
The J. Paul Getty Museum at the Getty Center (Los Angeles), December 16, 1997 to March 22, 1998
Bagliori del Medioevo, L'arte del Duecento a Bologna tra Europa e Oriente (April 15 to July 15, 2000)
Museo Civico Archaeologico, Bologna, April 15 to July 15, 2000
Ritual Splendor: Illuminated Liturgical Manuscripts (February 20 to May 6, 2001)
The J. Paul Getty Museum at the Getty Center (Los Angeles), February 20 to May 6, 2001
Songs of Praise: Illuminated Choir Books (July 23 to October 13, 2002)
The J. Paul Getty Museum at the Getty Center (Los Angeles), July 23 to October 13, 2002
Masterpieces in Miniature: Italian Manuscripts from the Middle Ages and Renaissance (March 29 to June 12, 2005)
The J. Paul Getty Museum at the Getty Center (Los Angeles), March 29 to June 12, 2005
Masterpieces in Miniature: Italian Manuscript Illumination from the J. Paul Getty Museum (September 25, 2005 to January 2, 2006)
National Gallery of Art (Washington, D.C.), September 25, 2005 to January 2, 2006
Music for the Masses: Illuminated Choir Books (August 14 to October 28, 2007)
The J. Paul Getty Museum at the Getty Center (Los Angeles), August 14 to October 28, 2007
---