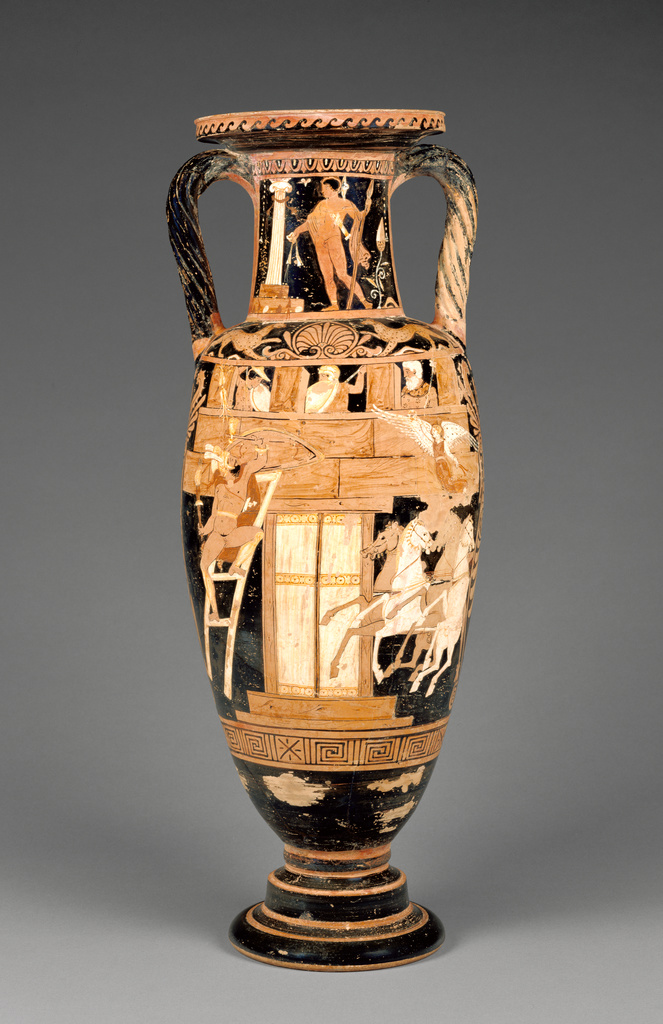 This image is available for download, without charge, under the Getty's Open Content Program.

Campanian Neck-Amphora
Open Content images tend to be large in file-size. To avoid potential data charges from your carrier, we recommend making sure your device is connected to a Wi-Fi network before downloading.
Currently on view at: Getty Villa, Gallery 109, The Greeks in Southern Italy and Sicily
Place:
Campania, South Italy (Place Created)
Dimensions:
63.5 × 24.9 cm (25 × 9 13/16 in.)
Object Description
The front of this red-figure amphora shows an episode from the story of The Seven Against Thebes, when a group of heroes banded together and attacked the Greek city to reinstate the rightful king. Holding a burning torch, the hero Kapaneus climbs a ladder, while two defenders and the usurping ruler look down from the wall. Kapaneus was killed for claiming that he did not need the gods' help, and at the top left of this scene, Zeus's thunderbolt falls towards the boastful warrior. On the right, Nike, goddess of Victory, flies above a chariot team. The main scene on the other side of the vase shows maenads and satyrs, the companions of Dionysos, the god of wine.

This amphora, with its twisted handles, elongated body and tall neck, is a typical shape produced by potters in Campania, around the Bay of Naples. Dramatic themes often provided the subject of mythological scenes on South Italian vases, and the story of the Seven against Thebes was related in a play by Aeschylus. Yet there is nothing on this vase that allows us to argue that the depiction of Kapaneus's demise was inspired by a performance on stage, unless the wooden-looking bricks of the city wall derive from theatrical scenery.  
Exhibitions
Ancient Art from the Permanent Collection (March 16, 1999 to May 23, 2004)
The J. Paul Getty Museum at the Getty Center (Los Angeles), March 16, 1999 to May 23, 2004
Bibliography
Krauskopf, Ingrid. "Kapaneus." In Lexicon Iconographicum Mythologiae Classicae V (1990), pp. 952-963, p. 954, no. 12a.
"Acquisitions/1992." The J. Paul Getty Museum Journal 21 (1993), p. 108, no. 11.
Krauskopf, Ingrid. "Septem." In Lexicon Iconographicum Mythologiae Classicae VII (1994), p. 739, no. 42.
The J. Paul Getty Museum Calendar (Spring 1994), A detail of the vase is reproduced in B & W.
Erath, Gabriele. Das Bild der Stadt der griechischen Flaechenkunst. Frankfurt: 1997, pp. 159-69, 301, cat. no. G 14; ill. cover and pl. 10.
Towne Markus, Elana. Masterpieces of the J. Paul Getty Museum: Antiquities. (Los Angeles: J. Paul Getty Museum, 1997), p. 86.
Burns, Michael Thomas. The Military Equipment and Methods of Warfare of the Samnites and other Oscan Speaking Peoples, Master's Thesis (Boston: University of Massachusettes, 2000), pp. 93-94, fig 30.
The J. Paul Getty Museum Handbook of the Antiquities Collection (Los Angeles: 2002), p. 122.
Spivey, Nigel and Squire, Michael. Panorama of the Classical World (Los Angeles: Getty Publications, 2004), p. 268, figs 424-425.
Taplin, Oliver. Pots & Plays: Interactions between Tragedy and Greek Vase-Painting in the Fourth Century B.C. (Los Angeles: J. Paul Getty Museum, 2007), pp. 266-67, ills.
Kostouros, George. A Narrative of the Nemean Games (Nemea: George Kostouros, 2008), p. 141, fig. 124.
The J. Paul Getty Museum Handbook of the Antiquities Collection. Rev. ed. (Los Angeles: J. Paul Getty Museum, 2010), p. 118.
Oakley, John H. The Greek Vase: Art of the Storyteller (Los Angeles: The J. Paul Getty Museum, 2013), pp. 95-96, figs. 35-36.
De Angelis, Francesco. Miti greci In tombe etrusche : le urne cinerarie di Chiusi (Rome: G. Bretschneider, 2015), pp. 71-72, fig. 7.
Linant de Bellefonds, Pascale, and Prioux, Évelyne. Voir les Mythes. Poésie Hellénistique et Arts Figurés. Paris: Editions A. and J. Picard, 2017, 239-240, fig. 29.
Schönheit, Lilian. "Theaterbilder im Spannungsfeld zwischen Italioten und Italikern" In Inszenierung von Identitaten. Unteritalische Vasenmalerei zwischen Griechen und Indigenen (Beihefte zum CVA Deutschland, VIII), edited by U. Kaestner and S. Schmidt. Verlag der Bayerischen Akademie der Wissenschaften: Munich, 2018, 122, fig. 3.
---