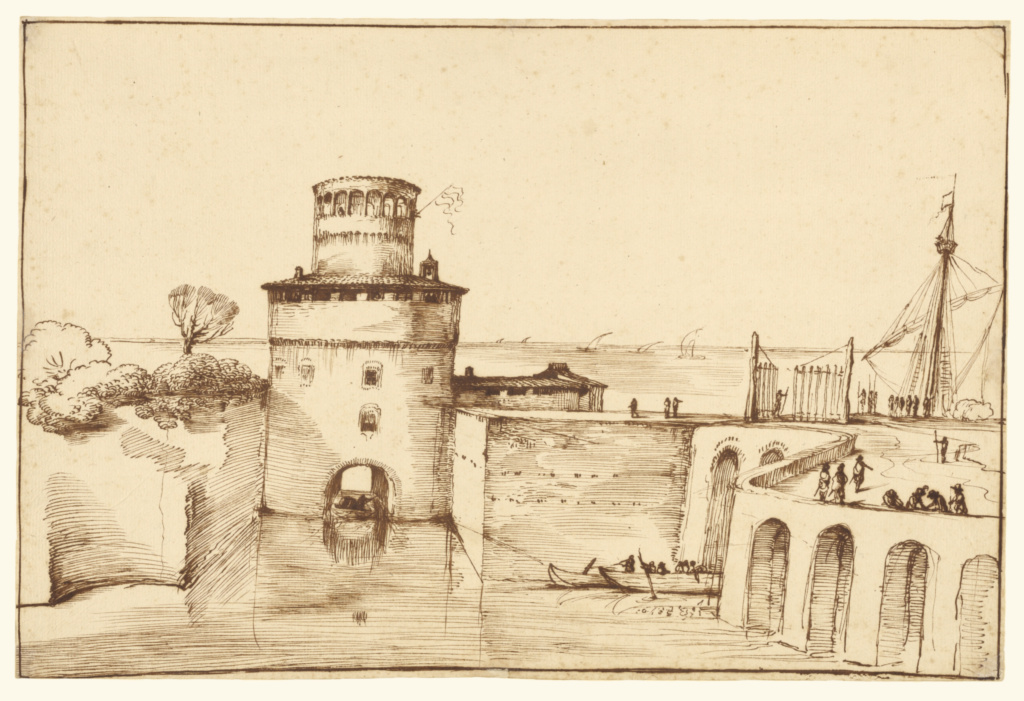 Open Content images tend to be large in file-size. To avoid potential data charges from your carrier, we recommend making sure your device is connected to a Wi-Fi network before downloading.
Not currently on view
Title:
Landscape with a View of a Fortified Port
Dimensions:
29 × 43.2 cm (11 7/16 × 17 in.)
Object Description
Like most of Guercino's landscapes, this quiet view was probably imaginary and most likely was made as an independent work of art. To create the effect of calmness, Guercino balanced forms and masses, as in the fort's tower and the docked ship's mast, which are anchored by the curving, arched wall and its smoooth, flat counterpart bounding the glassy sea. He added floating sailboats and sliding gondolas, the fluttering flag, and small figures at the port to enliven his scene.

Brown ink was Guercino's favorite medium for drawing. Here his crisp, clean lines and spare, somewhat abstract, architectural shapes give this drawing a feeling of modernity.
Exhibitions
Guercino, Master Draftsman: Works from North American Collections (February 16 to March 31, 1991)
Arthur M. Sackler Museum (Cambridge), February 16 to March 31, 1991
Giovanni Francesco Barbieri: Il Guercino, 1591 - 1666 (September 6, 1991 to May 17, 1992)
Museo Civico (Bologna), September 6 to November 10, 1991
Italian Master Drawings (May 5 to July 19, 1992)
The J. Paul Getty Museum (Malibu), May 5 to July 19, 1992
16-17th Century European Drawings (December 28, 1993 to March 13, 1994)
The J. Paul Getty Museum (Malibu), December 28, 1993 to March 13, 1994
Landscape Drawings 1500 - 1900 (June 9 to August 23, 1998)
The J. Paul Getty Museum at the Getty Center (Los Angeles), June 9 to August 23, 1998
Two Centuries of Drawings from Bologna (December 15, 1998 to February 28, 1999)
The J. Paul Getty Museum at the Getty Center (Los Angeles), December 15, 1998 to February 28, 1999
Guercino: Mind to Paper (October 17, 2006 to May 13, 2007)
The J. Paul Getty Museum at the Getty Center (Los Angeles), October 17, 2006 to January 21, 2007
Courtauld Institute of Art Gallery (London), February 22 to May 13, 2007
---