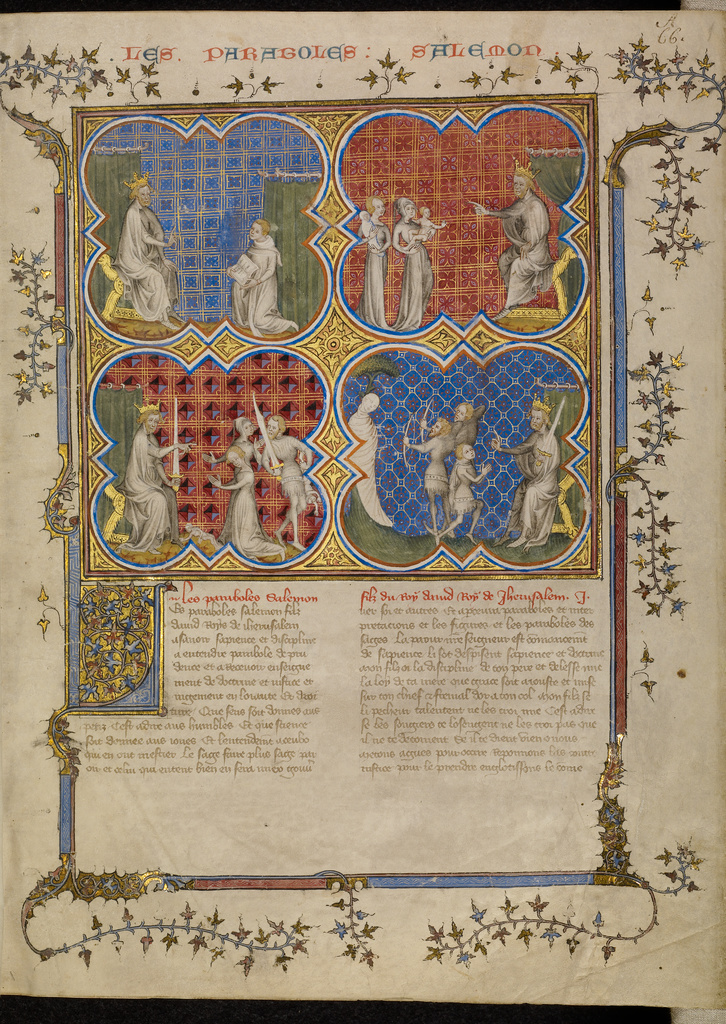 Open Content images tend to be large in file-size. To avoid potential data charges from your carrier, we recommend making sure your device is connected to a Wi-Fi network before downloading.
This image is available for download, without charge, under the Getty's Open Content Program.
Not currently on view
Title:
Bible Historiale, 2 vols.
Place(s):
Paris, France (Place created)
Compiled at the end of the 1200s by Guiart des Moulins and subsequently expanded, the Historical Bible was the most popular Bible in French of the Middle Ages (it is called the Bible historiale in French). It includes French translations of all the books of the Bible, a series of commentaries written in the 1100s by the scholar Peter Comestor and translated by Guiart from Latin into French, and additional commentaries and glosses authored by Guiart himself. This compilation is called the Historical Biblebecause the commentaries stressed the role of scripture as a record of historical events. Thus, in most illuminated copies, the book of Genesis, the first of the historical books of the Bible, is profusely illustrated, while non-historical books, like those of the prophets, receive only one illumination each. The many extant copies of the Historical Bibleattest to the desire of increasing numbers of lay people to have a complete Bible available in French. More than seventy miniatures illustrate the Getty Museum's two-volume Historical Bible, focusing largely on the narrative aspects of the texts. The Master of Jean de Mandeville, the anonymous master responsible for the majority of the illuminations, painted the costumes of his figures in grisaille, a monochrome technique popular in Paris in the 1300s. The contrasting brightly patterned backgrounds underscore the three-dimensionality of the delicately drawn, palely colored figures.
Dix siècles de livres français (July 9 to October 2, 1949) (no. 27; vol. 1, fol.1 (not known if vol. 2 exhibition))
Musée des Beaux-Arts de Lucerne, July 9 to October 2, 1949
A Thousand Years of the Bible: Medieval and Renaissance Manuscripts (January 15 to March 31, 1991) (no. 19; vol. 2, fols. 86v-87)
The J. Paul Getty Museum, (Malibu), January 15 to March 31, 1991
Medieval Beasts (May 1 to July 29, 2007) (no. 19; vol. 2, fols. 86v-87)
The J. Paul Getty Museum at the Getty Center, (Los Angeles), May 1 to July 29, 2007
---