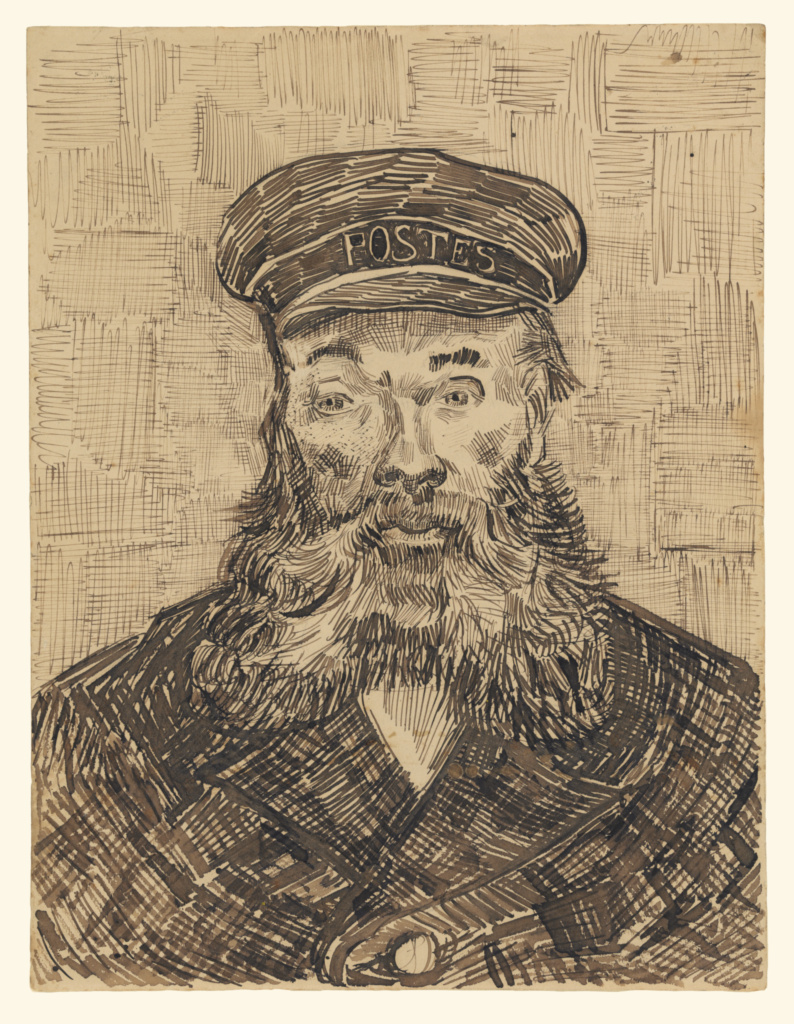 This image is available for download, without charge, under the Getty's Open Content Program.

Portrait of Joseph Roulin

Vincent van Gogh (Dutch, 1853 - 1890) 32.1 × 24.4 cm (12 5/8 × 9 5/8 in.) 85.GA.299
Open Content images tend to be large in file-size. To avoid potential data charges from your carrier, we recommend making sure your device is connected to a Wi-Fi network before downloading.
Not currently on view
Title:
Portrait of Joseph Roulin
Medium:
Reed and quill pen and brown ink, over black chalk
Dimensions:
32.1 × 24.4 cm (12 5/8 × 9 5/8 in.)
"A good soul and so wise and so full of feeling and so trustful"--thus Vincent van Gogh described his friend Joseph-Etienne Roulin. Van Gogh drew and painted many portraits of Roulin, a postal worker in Arles, where Van Gogh lived from 1888 to 1889. In letters and pictures, Van Gogh idealized Roulin, regarding him as both a man of the people and a sage.

Facing frontally, Roulin is pushed close to the picture plane, with his eyes looking slightly wistfully to the side. Van Gogh's energetic lines describe Roulin's full beard, his facial structure, and his somewhat crooked nose. With the dark, thick lines of a reed pen, Van Gogh hatched the vibrating coat and cap. Behind Roulin, a patchwork of nervous, intersecting lines drawn with a quill pen creates an overall surface tension, reinforcing the energy emanating from the sitter and the unsettled nature of his gaze.
1888
John Peter Russell, Belle-Isle-en-Mer, by gift from the artist
-
Mrs. H. Hahnloser-Bühler, Winterthur
-
Private Collection, Switzerland
Vincent van Gogh (1908)
Frankfurter Kunstverein, 1908
60 Zeichnungen und Aquarelle als Ergänzung der Ausstellung von Meisterwerken aus Privatsammlungen im Museum (August to October 1923)
Graphisches Kabinett (Winterthur), August to October 1923
Vincent van Gogh (July 3 to August 10, 1924) (catalogue by W. Wartmann)
Kunsthaus Zürich (Zurich), July 3 to August 10, 1924
Vincent van Gogh (December 1927 to April 1928) (catalogue by J.-B. de la Faille)
Otto Wacker Art Gallery (Berlin), December 1927 to April 1928
Moderne Aquarelle und Zeichnungen (1929)
Graphisches Kabinett (Winterthur), 1929
Von Ingres bis Picasso (July to August 1938)
Galerie Rosengart (Lucerne), July to August 1938
Die Hauptwereke der Sammlung Hahnloser (1940)
Kunstmuseum (Lucerne), 1940
Vincent van Gogh (October 11 to November 23, 1947) (catalogue by A. M. Hammacher et. al.)
Kunsthalle Basel, October 11 to November 23, 1947
Vincent van Gogh: Dipinti e disegni (February to April 1952) (catalogue by A. M. Hammacher et. al.)
Palazzo Reale (Milano), February to April 1952
Vincent van Gogh [Zurich] (1953)
Kunsthaus Zürich (Zurich), 1953
Zeichnungen und Aquarelle von Vincent van Gogh aus dem Besitz des Rijksmuseum Kröller-Müller und von anderen Leihgebern (1956)
Frankische Galerie (Nuremburg), 1956
Europäische Meisterwerke aus schweizer Sammlungen (1969) (catalogue by G. Hopp)
Staatliche Graphische Sammlung München (Munich), 1969
Vincent van Gogh: Zeichnungen und Aquarelle (April to June 1970) (catalogue by S. Rathke-Köhl)
Frankfurter Kunstverein, April 30 to June 21, 1970
Van Gogh in Arles (October 18 to December 30, 1984) (catalogue by R. Pickvance)
The Metropolitan Museum of Art (New York), October 18 to December 30, 1984
Vincent Van Gogh Drawings 1853 - 1890 (March 15 to August 7, 1990) (Catalogue by J. van der Wolk, R. Pickvance, and E.B.F. Pey)
Kröller-Müller Museum (Otterlo), March 15 to August 7, 1990
French Master Drawings (December 3, 1991 to February 16, 1992)
The J. Paul Getty Museum (Malibu), December 3, 1991 to February 16, 1992
Drawings from the J. Paul Getty Museum (May 24 to August 8, 1993)
The Metropolitan Museum of Art (New York), May 24 to August 8, 1993
Drawings from the J. Paul Getty Museum (October 29, 1993 to January 23, 1994)
Royal Academy of Arts (London), October 29, 1993 to January 23, 1994
Portrait Drawings 1500 - 1900 (January 30 to May 12, 1996)
The J. Paul Getty Museum (Malibu), January 30 to May 12, 1996
Master Drawings from the J. Paul Getty Museum (December 16, 1997 to February 22, 1998)
The J. Paul Getty Museum at the Getty Center (Los Angeles), December 16, 1997 to February 22, 1998
Van Gogh: Face to Face (March 12 to June 4, 2000) (Catalogue by R. Dorn et. al.)
The Detroit Institute of Arts (Detroit), March 12 to June 4, 2000
Posing for Posterity: Portrait Drawings from the Collection (October 30, 2001 to January 20, 2002)
The J. Paul Getty Museum at the Getty Center (Los Angeles), October 30, 2001 to January 20, 2002
Casting Characters: Portraits and Studies of Heads (November 4, 2003 to February 1, 2004)
The J. Paul Getty Museum at the Getty Center (Los Angeles), November 4, 2003 to February 1, 2004
Van Gogh Drawings (July 1 to December 31, 2005) (catalogue by C. Ives et. al.)
Van Gogh Museum (Amsterdam), July 1 to September 18, 2005
The Metropolitan Museum of Art (New York), October 12 to December 31, 2005
Defining Modernity: European Drawings 1800-1900 (June 5 to September 9, 2007)
The J. Paul Getty Museum at the Getty Center (Los Angeles), June 5 to September 9, 2007
Hatched! Creating Form with Line (March 11 to June 1, 2014)
The J. Paul Getty Museum at the Getty Center (Los Angeles), March 11 to June 1, 2014
Education Resource

Subjects

Grades

Format

Looking at Portraits: Portraits in Line

Students use Van Gogh's Portrait of Joseph Roulin as inspiration for their own portraits of friends in the classroom.

Visual Arts

6-8

Two-Part Lesson
---