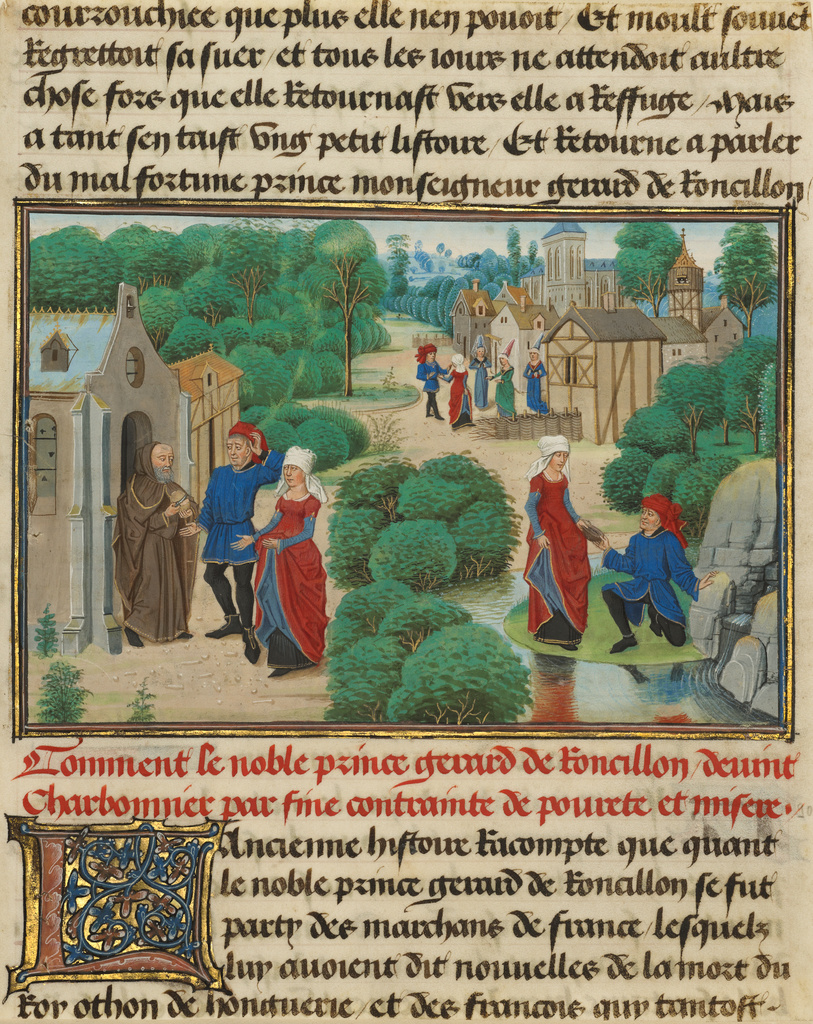 This image is available for download, without charge, under the Getty's Open Content Program.

Fifteen Cuttings from Histoire de Charles Martel

Loyset Liédet (Flemish, active about 1448 - 1478)Pol Fruit (Flemish, active about 1468)David Aubert (Flemish, active 1453 - 1479) Ms. Ludwig XIII 6
Open Content images tend to be large in file-size. To avoid potential data charges from your carrier, we recommend making sure your device is connected to a Wi-Fi network before downloading.
Not currently on view
Title:
Fifteen Cuttings from Histoire de Charles Martel
Place:
Written: Brussels, Belgium; Illuminated: Bruges, Belgium (Place Created)

Date:
written 1463–1465; illuminated 1467–1472
Medium:
Tempera colors, gold leaf, gold paint, and ink on parchment
Over a period of three years, court scribe David Aubert wrote a four-volume work in French titled Histoire de Charles Martel.It totals four thousand pages and tells the story of Charles Martel (r. 719 to 741), Charlemagne's grandfather. Late medieval knights undoubtedly enjoyed reading the adventures of such earlier heroes, and they would have drawn inspiration from Charles's exploits. Philip the Good, duke of Burgundy, commissioned this enormous manuscript for his already sumptuously endowed library of more than seven hundred volumes, one of the great libraries of the 1400s.

Several years after Philip's death, the illumination of this extravagant undertaking had barely begun. In 1468 ducal accounts show payments to Pol Fruit of Bruges for painting the initials in the third volume. A year or so later, Philip's son and heir Duke Charles the Bold hired Loyset Liédet to paint the book's 123 miniatures. Court accounts record that Liédet received his final payment in 1472, showing that the entire manuscript took almost a decade to complete.

The four volumes of the book, with 101 of the original miniatures, belong to the Royal Library in Brussels, which acquired the core of Philip the Good's library. Fifteen leaves with half-page miniatures, removed in the 1700s, are part of the Getty Museum's collection.
Building the Medieval World: Architecture in Illuminated Manuscripts (March 2 to May 16, 2010) (leaf 1)
The J. Paul Getty Museum at the Getty Center (Los Angeles), March 2 to May 16, 2010
von Euw, Anton, and Joachim M. Plotzek. Die Handschriften der Sammlung Ludwig. 4 vols. (Cologne: Schnütgen-Museum, 1979-1985), vol. 3 (1982), pp. 250-56.
"Manuscript Acquisitions: The Ludwig Collection." The J. Paul Getty Museum Journal 12 (1984), p. 301.
Touwaide, Alain. "Visions du monde médiéval à travers les manuscrits enluminées du J. P. Getty Museum (Malibu)." Scriptorium 45, no. 1 (1991), pp. 298-302.
Eissenhauer, Michael, ed. Ludwigs Lust: Die Sammlung Irene und Peter Ludwig, exh. cat. (Nuremberg: Germanisches Nationalmuseum, 1993), cat. no, 102, pp. 136, 477, ills. (fols. 5r, 8r, 9r, 12r), entry by Regina Marth.
Cohen, Adam S. "Devotion and Desire: Views of Women in the Middle Ages and Renaissance." Letter Arts Review 12, no. 4 (1996), pp. 30-35.
Masterpieces of the J. Paul Getty Museum: Illuminated Manuscripts (Los Angeles: J. Paul Getty Museum, 1997), pp. 94-95, entry by Thomas Kren.
Smeyers, Maurits. Flemish Miniatures from the 8th to the mid-16th Century: The Medieval World on Parchment (Turnhout: Brepols, 1999), pp. 356, 416 (no.9).
Lilly, Melinda. Knight. People of the Middle Ages (Vero Beach, FL: Rourke Publishing LLC, 2002), pp. 6-7, ill.
Lilly, Melinda. Princess (Vero Beach: Rourke Publishing LLC, 2003), pp. 24-25, ill.
Sciacca, Christine. Building the Medieval World (Los Angeles: J. Paul Getty Museum; London: The British Library, 2010), pp. 5-6, fig. 4.
Kren, Thomas. Illuminated Manuscripts from Belgium and the Netherlands in the J. Paul Getty Museum (Los Angeles: J. Paul Getty Museum, 2010), pp. 7, 18, 34, 65-67, ill.
Waldmann, Klaus. "Come in un film: Vedere la Storia al Getty Museum." Alumina Pagine Miniate 9, no. 33 (April-June 2011), pp. 58-59, ill.
Buren, Anne H. van, and Roger S. Wieck. Illuminating Fashion: Dress in the Art of Medieval France and the Netherlands, 1325-1515, exh. cat. (New York: The Morgan Library & Museum; with London: D Giles Limited, 2011), pp. 372-373.
Avril, François, Nicole Reynaud, and Dominique Cordellier, eds. Les enluminures du Louvre: Moyen Âge et Renaissance, exh. cat. (Paris: Musée du Louvre, with Éditions Hazan, 2011), pp. 292-93, under no. 155, entry by Ann Dubois.
Belayew, Charlotte, and Bernard Bousmanne. La librairie des Ducs de Bourgogne: manuscrits conservés à la Bibliothèque Royale de Belgique (Turnhout: Brepols, 2015), vol. 5, p. 35.
Scott, Margaret. Fashion in the Middle Ages. 2nd ed. (Los Angeles: J. Paul Getty Trust, 2018), p. 17, ill.
---