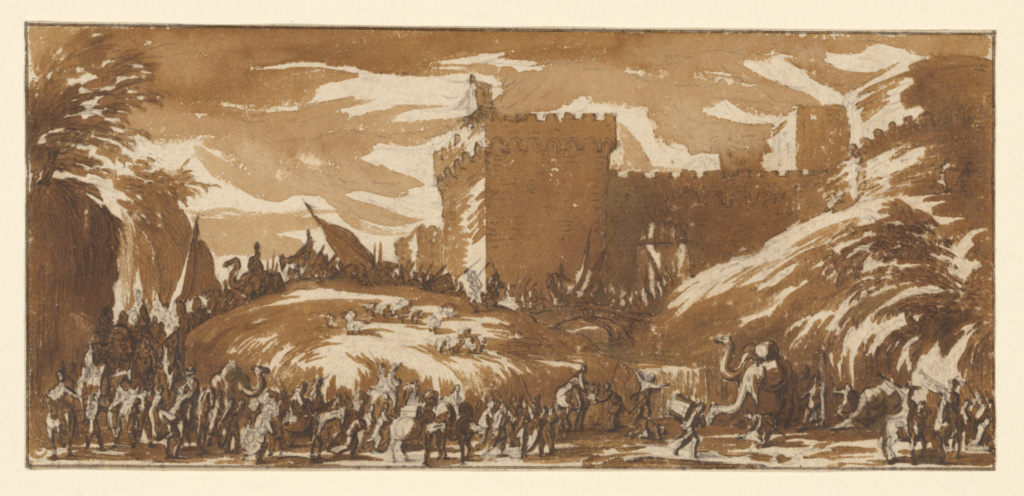 Open Content images tend to be large in file-size. To avoid potential data charges from your carrier, we recommend making sure your device is connected to a Wi-Fi network before downloading.
Not currently on view
Medium:
Brush and brown wash over black chalk
Dimensions:
10.2 x 21.7 cm (4 x 8 9/16 in.)
Jacques Callot's bravura handling of wash, the expansiveness of the setting, and the large number of participants belie this sheet's tiny size. Callot typically created small prints and drawings whose action and setting may be best appreciated with a magnifying glass.

The location and subject depicted in this drawing are unknown, but the camels indicate an Eastern locale. With rich use of wash and dramatic compositional rhythms, Callot invented a complex scene of an army marching in procession from a castle or walled city with captives and booty. Banners aloft, they regroup to trumpet fanfares in the lower right corner. Huge tongues of flame, seen clearly in the black chalk underdrawing, burst from the battlements.

In style, subject, and horizontal format, this drawing resembles compositions from one of Callot's masterworks, his Miseries of Waretchings of 1633. He completed the series soon after Cardinal Richelieu's devastating invasion of the Lorraine region and the capture of Callot's hometown of Nancy.
July 2, 1984
Sotheby's (London), lot 94.
Drawings from the J. Paul Getty Museum (May 24 to August 8, 1993) (18)
The Metropolitan Museum of Art (New York), May 24 to August 8, 1993
Drawings from the J. Paul Getty Museum (October 29, 1993 to January 23, 1994) (96)
Royal Academy of Arts (London), October 29, 1993 to January 23, 1994
Drawn Toward Nature: Landscapes and Gardens in Ancién-Regime France (June 13 to August 27, 1995)
The J. Paul Getty Museum (Malibu), June 13 to August 27, 1995
Capturing Nature's Beauty: Three Centuries of French Landscapes (July 28 to November 1, 2009)
The J. Paul Getty Museum at the Getty Center (Los Angeles), July 28 to November 1, 2009
The Poetry of Paper (July 23 to October 20, 2013)
The J. Paul Getty Museum at the Getty Center (Los Angeles), July 23 to October 20, 2013
---