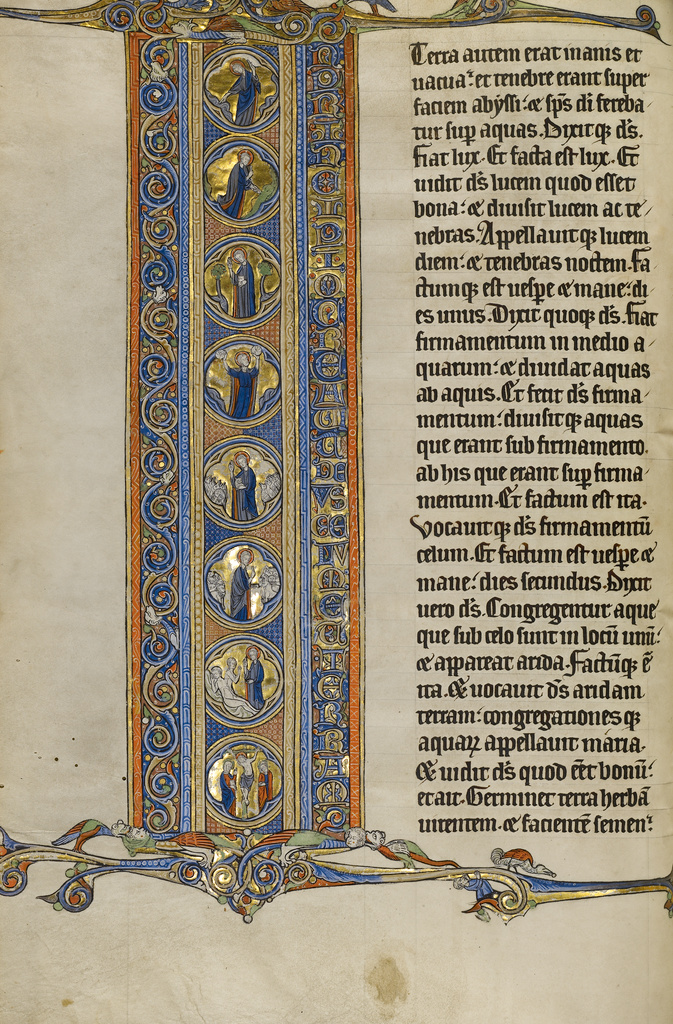 Marquette Bible, 3 vols.

Unknown Ms. Ludwig I 8
Open Content images tend to be large in file-size. To avoid potential data charges from your carrier, we recommend making sure your device is connected to a Wi-Fi network before downloading.
This image is available for download, without charge, under the Getty's Open Content Program.
Currently on view at: Not currently on view; Getty Center, Museum North Pavilion, Gallery N105
Place(s):
Lille (probably), France (Place created)
Medium:
Tempera colors, black ink, and gold leaf on parchment bound between pasteboard covered with reddish brown pigskin
Monks or nuns probably read aloud from this large Bible at mealtimes in the refectory of a monastery. A team of lay artisans practicing their craft in the thriving commercial cities of the French-Flemish border region wrote and illuminated the book around 1270. From the surviving portions of this manuscript, it is evident that at least six different artists worked on the initials alone; scholars presume that the team of illuminators responsible for the original seven-volume Bible was even larger.

The manuscript's large scale allowed the assembled monks or nuns to appreciate from afar the richness of its decorative scheme. Historiated initials, the usual form of decoration for thirteenth-century bibles, appear at the beginning of each biblical book, and a few fanciful vignettes decorate the margins. The burnished gold backgrounds, dragon motifs, and spiraling tendrils of leaves are characteristic features of northern French Gothic illumination.

In the 1400s, the Bible belonged to the Cistercian convent at Marquette in northeastern France. An inscription in the manuscript in a later hand reports that Philip, Duke of Burgundy, a member of the most influential family of art patrons in late medieval France and Flanders, gave the manuscript to the nuns.
Exhibition of Illuminated Manuscripts (1908) (nos. 109-111; vol. 1, fol. 10v-11; vol. 2, fols. 180v-181; vol. 3, fols. 238v-239)
Burlington Fine Arts Club (London), 1908
Weltkunst aus Privatbesitz (May 18 to August 4, 1968) (no. D 61; vol. 1, fols. 10v-11; 2 other vols. not known)
Kunsthalle Köln, (Cologne), May 18 to August 4, 1968
The Making of a Medieval Book (November 17, 1998 to May 30, 1999) (no. D 61; vol. 1, fols. 10v-11; 2 other vols. not known)
The J. Paul Getty Museum at the Getty Center, (Los Angeles), November 17, 1998 to May 30, 1999
Touching the Past: The Hand in the Medieval Book (July 7 to September 27, 2015) (vol. 2)
The J. Paul Getty Museum at the Getty Center, (Los Angeles), July 7 to September 27, 2015
---