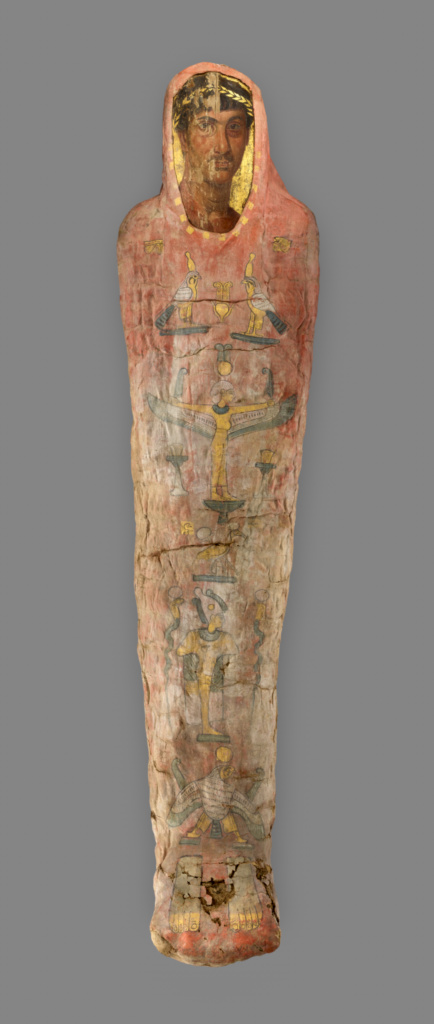 This image is available for download, without charge, under the Getty's Open Content Program.

Mummy with Cartonnage and Portrait

Unknown 175.3 × 44 × 33 cm (69 × 17 5/16 × 13 in.) 91.AP.6
Open Content images tend to be large in file-size. To avoid potential data charges from your carrier, we recommend making sure your device is connected to a Wi-Fi network before downloading.
Currently on view at: Getty Villa, Gallery 206, Arts of Greco-Roman Egypt
Title:
Mummy with Cartonnage and Portrait
Medium:
Wax tempera and gilding on a wooden panel; linen and encaustic
Dimensions:
175.3 × 44 × 33 cm (69 × 17 5/16 × 13 in.)
This Romano-Egyptian mummy combines the millennia-old Egyptian tradition of mummification of the dead with the Roman tradition of individualized portraiture. The blending of these two traditions was characteristic of the ethnically and culturally diverse population of the Roman province of Egypt.

The painted mummy portrait depicts a young man. Unlike most mummy portraits, no clothing is visible on the man's shoulders. Scholars do not agree on how to interpret the small but significant number of mummy portraits depicting nude men. Some scholars interpret them as youths who have become ephebes, with the nudity signaling their age and social status. Some portraits, however, like this one, show older men. Other scholars believe that nudity is a religious rather than social statement. If so, then the men and youths would be initiates in the cult of Isis who are shown naked to symbolize their rebirth.

This portrait is unusual in that the linear hatching the artist used to create shadows is characteristic of tempera painting, not encaustic. The gilded wreath and background were added to the painting when it was cut down and bound in the mummy wrappings. This mummy is one of a small group wrapped in characteristic red shrouds. In Egyptian religion, red was associated with life and regeneration. Symbols connected with Egyptian funerary ritual cover the length of the body.
- 1991
Nicolas Koutoulakis (Geneva, Switzerland), by exchange to the J. Paul Getty Museum, 1991.
"Acquisitions/1991." The J. Paul Getty Museum Journal 20 (1992) p. 147, no. 28.
Doxiadis, Euphrosyne. The Mysterious Fayum Portraits. Faces from Ancient Egypt. London: Thames and Hudson, 1995. p. 158, b&w ill 101; comments pp. 98, 218.
The J. Paul Getty Museum Handbook of the Collections. 7th ed. (Los Angeles: J. Paul Getty Museum, 2007) p. 53, ill.
The J. Paul Getty Museum Handbook of the Antiquities Collection. Rev. ed. (Los Angeles: J. Paul Getty Museum, 2010) p. 226.
Corcoran, Lorelei H. and Svoboda, Marie. Herakleides : a portrait mummy from Roman Egypt (Los Angeles: Getty Publications, 2010).
Bowers, Michael C. Forensic Dental Evidence (Massachusettes: Academic Press, 2011), p.3, fig.1.1. p. 3, fig.1.1.
Green, Christopher, and Jens M. Daehner. Modern Antiquity: Picasso, de Chirico, Leger, and Picabia (Los Angeles: J. Paul Getty Museum, 2011) 49, n. 14.
---