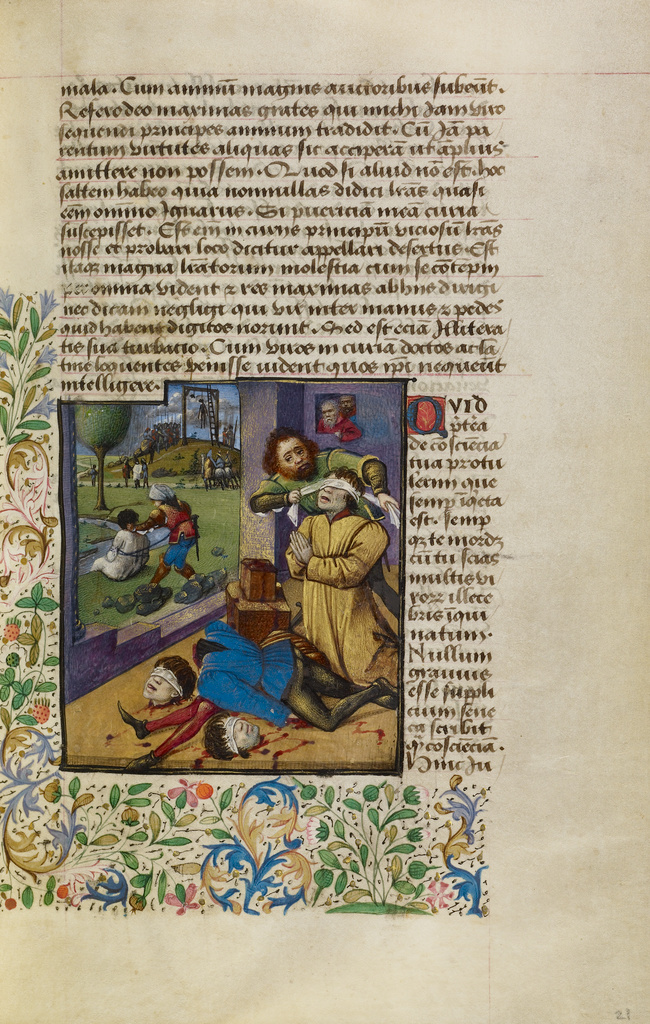 Open Content images tend to be large in file-size. To avoid potential data charges from your carrier, we recommend making sure your device is connected to a Wi-Fi network before downloading.
Not currently on view
Title:
A Massacre of Family Members
Medium:
Tempera colors, gold leaf, gold paint, and ink on parchment
Dimensions:
Leaf: 17.6 × 11.4 cm (6 15/16 × 4 1/2 in.)
This miniature shows one of the possible harsh realities of court life: family members being killed in a struggle for power. With a remarkable flair for drama, the artist repeated the horror of murder using three different means. Freshly beheaded corpses lie in a gruesome heap in the foreground. Another man, probably the brother of the slain, is being blindfolded in preparation for his turn on the chopping block. From the window above the executioner and the men who ordered the killings observe the grisly scene. A man about to be drowned at the left and an unfortunate man hanging from the gallows in the background illustrate other means of execution.
Images of Violence in the Middle Ages (December 21 2004 to March 13, 2005)
The J. Paul Getty Museum at the Getty Center (Los Angeles), December 21, 2004 to March 13, 2005
Outcasts: Prejudice and Persecution in the Medieval World (January 30 to April 8, 2018)
The J. Paul Getty Museum at the Getty Center (Los Angeles), January 30 to April 8, 2018
Audio: A Massacre of Family Members
---