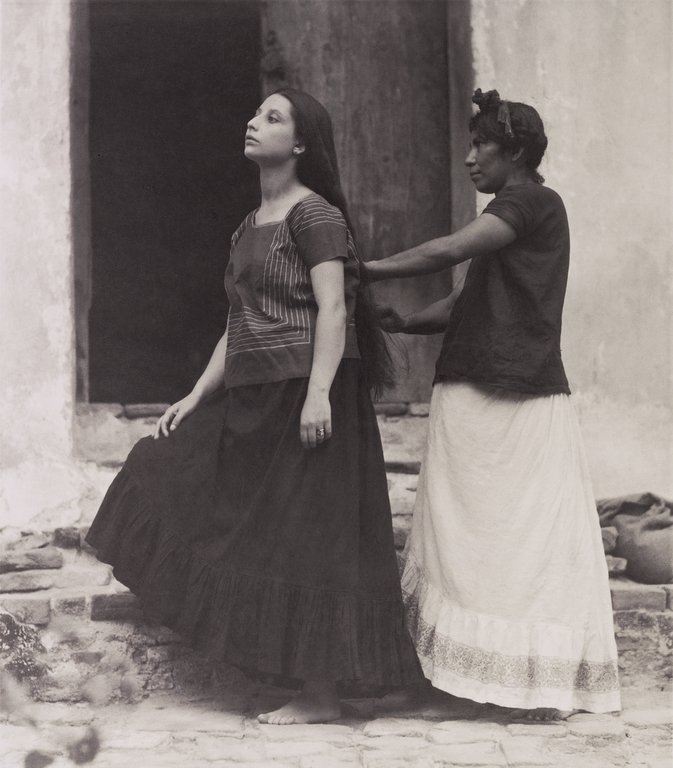 Mujer del Istmo peinando a Isabel Villaseñor (Woman of the isthmus combing Isabel Villaseñor's hair)

Manuel Álvarez Bravo (Mexican, 1902 - 2002) 21.9 × 19.2 cm (8 5/8 × 7 9/16 in.) 2001.43
Not currently on view
Title:
Mujer del Istmo peinando a Isabel Villaseñor (Woman of the isthmus combing Isabel Villaseñor's hair)
Date:
negative 1933; print 1990s
Dimensions:
21.9 × 19.2 cm (8 5/8 × 7 9/16 in.)
Copyright:
© Colette Urbajtel/Archivo Manuel Álvarez Bravo, SC
Object Description
Manuel Alvarez Bravo portrayed Isabel Villaseñor, an icon of Mexico's postrevolutionary period, with one foot propped on a step and her head turned up in regal fashion, while a woman combs her long tresses. The striking features of Villaseñor, who was an artist, poet, and songwriter, were idealized as symbols of Mexican feminine intellect and beauty.

In his title, Woman of the Isthmus Combing Isabel's Hair, Alvarez Bravo acknowledged the indigenous woman from the Isthmus of Tehuantepec whose dark features are so different from Villaseñor's, though no less striking. This image is part of an artistic tradition illustrating women's grooming activities.
Exhibitions
Manuel Alvarez Bravo: Optical Parables (November 13, 2001 to February 9, 2003)
The J. Paul Getty Museum at the Getty Center (Los Angeles), November 13, 2001 to February 17, 2002
Museo Nacional de Arte (Mexico City), March 14 to June 2, 2002
Walker Art Center (Minneapolis), November 10, 2002 to February 9, 2003
---