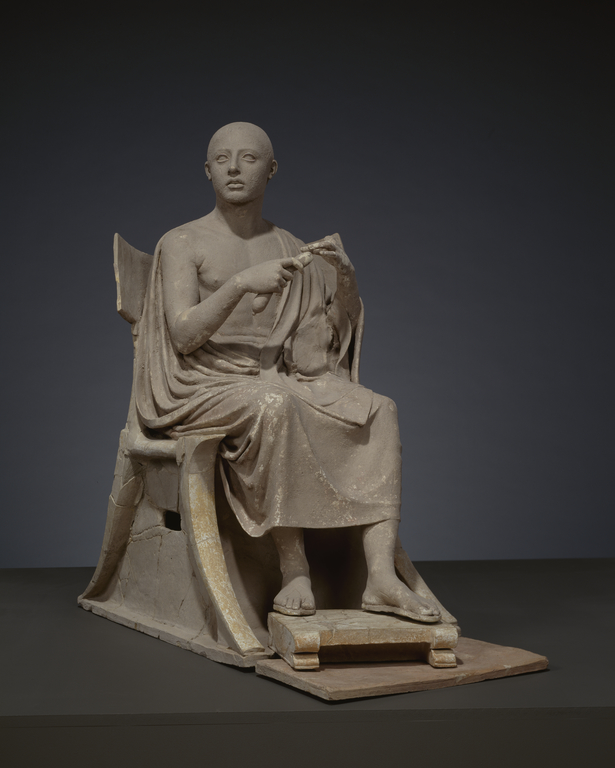 Currently on view at: Getty Villa, Gallery 203, Special Exhibitions
Title:
Statue of a Seated Poet (Orpheus?)
Culture:
Greek (South Italian,Tarantine)
Place:
Tarentum (Taras), South Italy (Place created)

Medium:
Terracotta with white slip of calcium carbonate and polychromy (orange-gold, black, red, gold-yellow, brown, pink)
Dimensions:
104 × 56.8 × 100.6 cm (40 15/16 × 22 3/8 × 39 5/8 in.)
The almost life-size male figure sits on a klismos (chair), which has a broad, rounded backrest and openings (either vents or handles to move the figure) below the seat on both sides. The seat rests on a low, rectangular platform composed of two distinct sections. The seated male wears a mantle that covers his slightly spread legs to the calves, his proper left shoulder, and part of his left arm; his chest is bare, and wrinkles are visible around the navel and right armpit. He wears thong sandals; his left foot rests on a rectangular footstool, touched only by the tip of his right foot. His erect head, turned proper right, features a rounded face with almond-shaped eyes that have distinct eyelids and tear glands; a low supraorbital arch that runs directly to the straight nose with rounded nostrils; and a carefully modeled mouth, partially open, revealing the upper teeth. His hair must have been painted, and the modeling of the upper part of the forehead suggests the presence of a headdress. He holds a plectrum in his right hand, while his left probably supported a kithara (now missing) in his lap. Traces of applied colour (yellow/gold; white-ground; red; pink; red/brown) are preserved on the figure as well as the chair and footstool. The half-open mouth indicates that the figure is in the act of singing and identifies him as a poet, or perhaps Orpheus, the mythical musician who traveled to the land of the dead and was able to return. This statue is part of a group along with two Sirens (76.AD.11.2 and 76.AD.11.3), mythological creatures whose singing lured sailors to their deaths. While the precise identity of the seated poet is uncertain, the imagery of the sculptural group is funerary in nature and may have decorated a tomb.
---