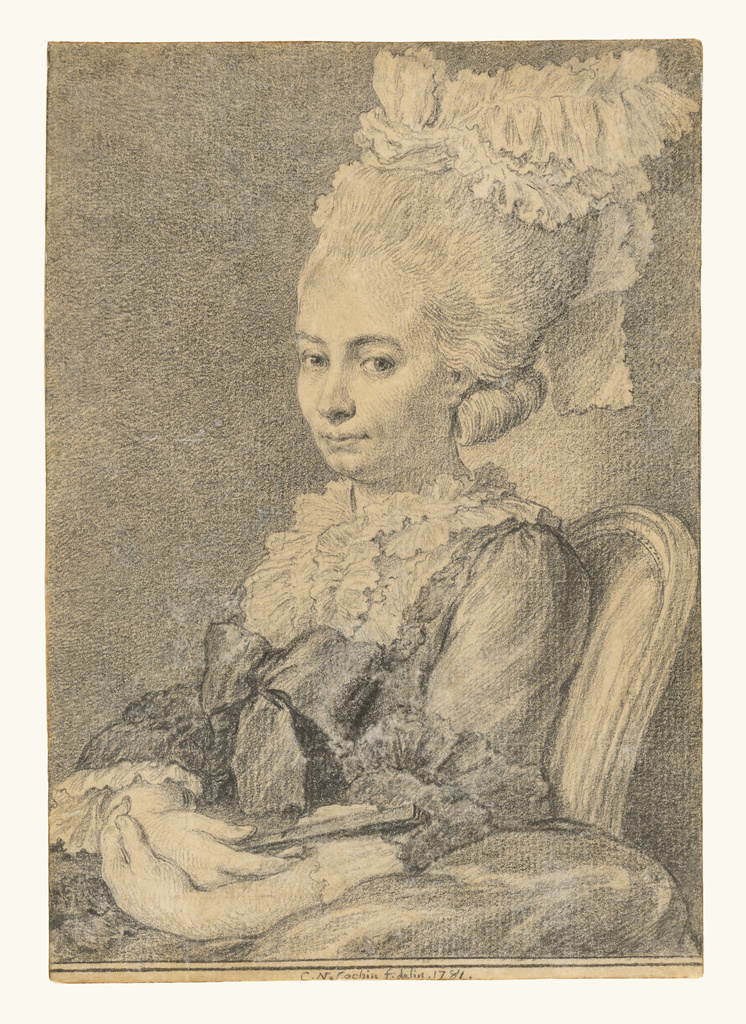 Open Content images tend to be large in file-size. To avoid potential data charges from your carrier, we recommend making sure your device is connected to a Wi-Fi network before downloading.
Not currently on view
Title:
Portrait of a Young Woman Holding a Fan
Dimensions:
16 × 11.4 cm (6 5/16 × 4 1/2 in.)
This fashionably dressed young woman sits back in a comfortably padded chair and turns her head, facing the viewer with a clear, direct gaze. She wears a ruffled white headdress perched on top of her upswept hair and an elegant dress with a large bow on the bodice. The triple layers of ruffles on her sleeves are fashionably arranged to match the lacy layers on her cap and the ruffles modestly draped around her neck. Using only black chalk, Charles-Nicolas Cochin created a dynamic composition out of a single figure. His delicate strokes suggest not only the silky texture of her dress, but also the softly dimpled flesh around her mouth and chin.

Greatly admired by his contemporaries, Cochin's draftsmanship was always praised for his technical perfection. He was a prolific portrait artist, producing over 250 portrait drawings, all of them small scale and with their sitters shown in the bust length format. This drawing was probably made as an independent work of art, and not in preparation for a painting. It might have been displayed in the private sitting room or bedroom of a house, perhaps as part of a group of family pictures.
-
Etude Tajan [Paris, October 20, 2000, lot 26]
Posing for Posterity: Portrait Drawings from the Collection (October 30, 2001 to January 20, 2002)
The J. Paul Getty Museum at the Getty Center (Los Angeles), October 30, 2001 to January 20, 2002
French Drawings from the Age of Greuze (September 10 to December 1, 2002)
The J. Paul Getty Museum at the Getty Center (Los Angeles), September 10 to December 1, 2002
Carmontelle's Transparency: An 18th Century Motion Picture (March 14 to June 18, 2006)
The J. Paul Getty Museum at the Getty Center (Los Angeles), March 14 to June 18, 2006
---