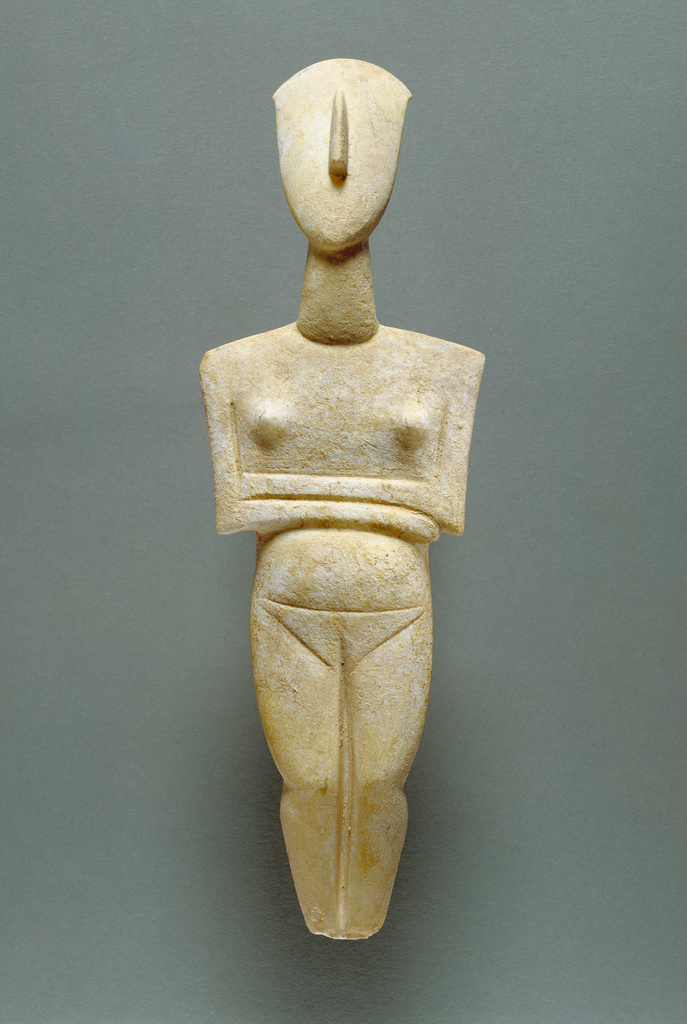 Female Figure of the Late Spedos Type

Attributed to the Schuster Master (Cycladic, active about 2400 B.C.) 40.6 cm (16 in.) 90.AA.114
Open Content images tend to be large in file-size. To avoid potential data charges from your carrier, we recommend making sure your device is connected to a Wi-Fi network before downloading.
This image is available for download, without charge, under the Getty's Open Content Program.
Currently on view at: Getty Villa, Gallery 217, Neolithic and Bronze Age Arts
Title:
Female Figure of the Late Spedos Type
Place(s):
Cyclades, Greece (Place created)
This female figure with crossed arms is typical of the sculpture of the Cyclades in the mid-2000s B.C. Scholars have divided Cycladic sculpture into groups or types indicating stylistic and chronological developments. This nearly complete figure features stylistic traits of both the Spedos and Dokathismata types, such as the exaggerated curve of the top of the head, the deep groove between the legs, and the prominent aquiline nose. The slightly swollen belly of this figure may indicate pregnancy. As preserved today, most Cycladic figures appear almost minimalist, but their original effect--with painted facial features, hair, and occasionally jewelry--was quite different. On this figure, only traces of red paint remain on the forehead.
by 1989 - 1990
Robin Symes (London, England), Sold to the J. Paul Getty Museum, 1990.
Silent Witnesses (April 4 to June 30, 2002)
Onassis Cultural Center, (New York), April 4 to June 30, 2002
Prehistoric Arts of the Eastern Mediterranean (February 11, 2003 to May 4, 2003)
The J. Paul Getty Museum at the Getty Center, (Los Angeles), February 11 to May 4, 2003
"Acquisitions/1990." The J. Paul Getty Museum Journal 19 (1991), p. 138, no. 14.
Birge, D. "Field Notes," Archeological News 17, 1-4 (1992). p. 41.
Theodorou, J. "Cycladic Art at the Getty," The Greek American, July 25, 1992, pp. 8-9, 14. ill. p. 8.
The J. Paul Getty Museum Calendar. Winter 1991/1992. under "Bronze Age Sculptiure" ill.
Getz-Gentle, Pat. Personal Styles in Early Cycladic Sculpture. Madison: 2001. pp. 98-99; p. 168, checklist #15; pls. 82c, 83c, 85c1.
Doumas, Christos G. Silent Witnesses: Early Cycladic Art of the Third Millenium B.C. Exh. cat., Alexander S. Onassis Public Benefit Foundation (USA), April 9-June 15, 2002. New York: 2002. p. 87, no. 33.
---