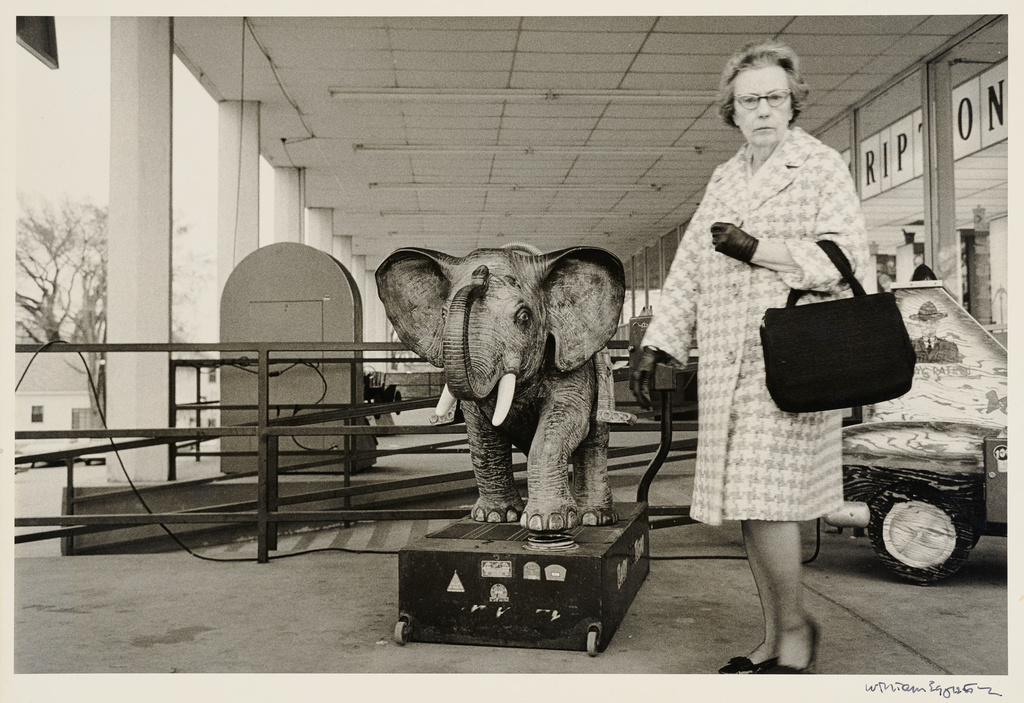 Memphis

William Eggleston (American, born 1939) 22.4 × 33.8 cm (8 13/16 × 13 5/16 in.) 2000.41.6
Place:
Memphis, Tennessee, United States, North America (Place created)

Dimensions:
22.4 × 33.8 cm (8 13/16 × 13 5/16 in.)
Copyright:
© Eggleston Artistic Trust
An older woman stands outside a shopping center near a coin-operated children's ride--a small elephant about half her height. The woman's enormous purse rivals the elephant's platform in size. By using a wide-angle lens and a close-up perspective in this photograph, William Eggleston enhanced his subject's awkwardness. Through such distortions, it may have been his goal to make the commonplace--people and things at a mini-mall--seem out of place.

As Curator John Szarkowski of New York's Museum of Modern Art observed in his introduction to William Eggleston's Guide, "the design of most of the pictures seem to radiate from a central, circular core." Elevated on his stage and centered in the frame, the elephant is, absurdly, the star of this scene. Parallel lines from the shopping center's overhang appear to radiate from it, while the woman and a mailbox balance the composition on either side.
Strange Days: Photographs from the Sixties by Winogrand, Eggleston, and Arbus (July 1 to October 5, 2003)
The J. Paul Getty Museum at the Getty Center (Los Angeles), July 1 to October 5, 2003
Eggleston Portraits (July 21, 2016 to June 28, 2017)
National Portrait Gallery (London), July 21 to October 23, 2016
National Gallery of Victoria (Melbourne), March 17 to June 18, 2017
Prodger, Phillip. William Eggleston: Portraits, exh. cat. (London: National Portrait Gallery, London, 2016), p. 65.
---