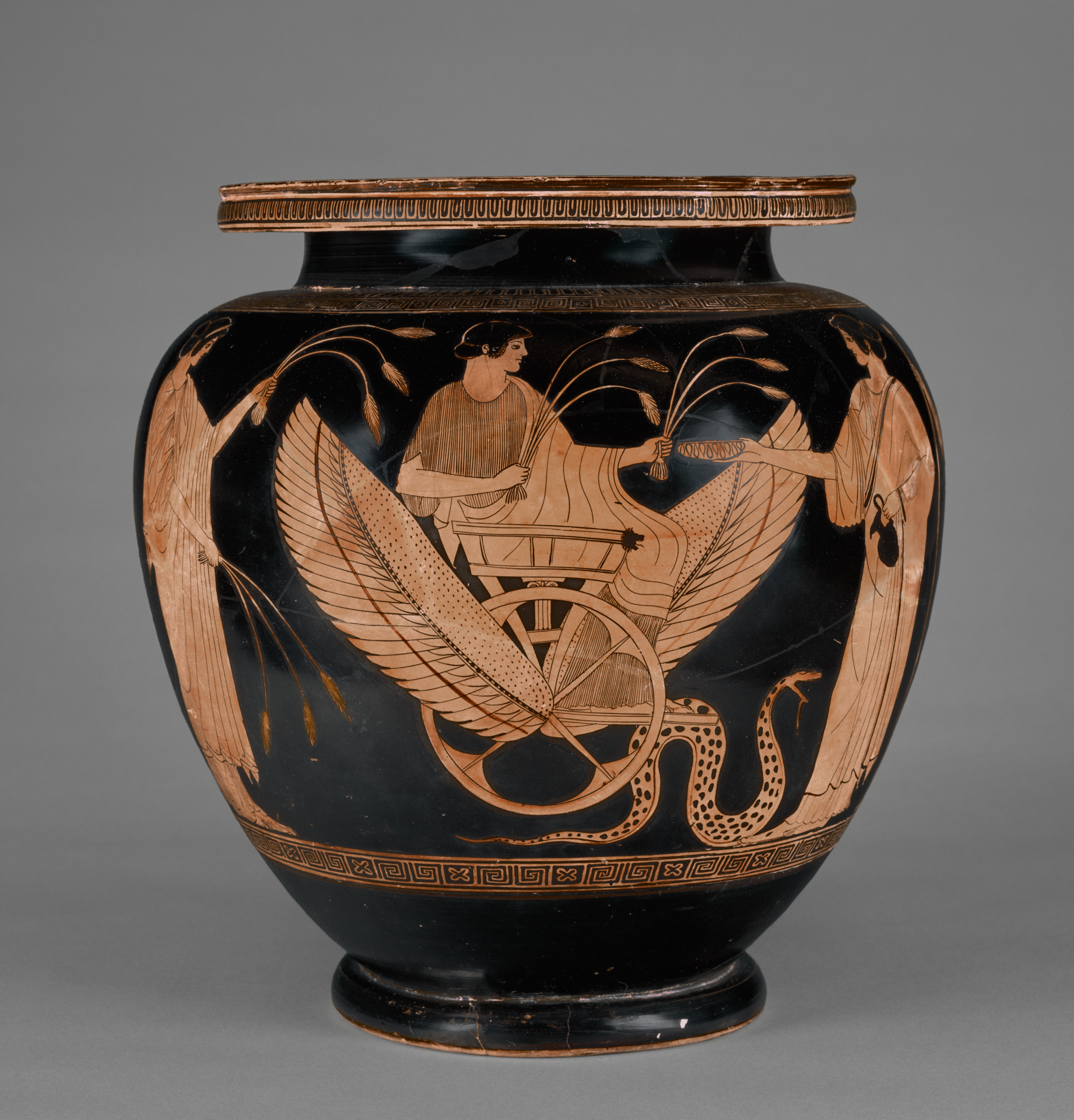 Open Content images tend to be large in file-size. To avoid potential data charges from your carrier, we recommend making sure your device is connected to a Wi-Fi network before downloading.
Currently on view at: Getty Villa, Gallery 104, Gods and Goddesses
Title:
Attic Red-Figure Footed Dinos
Artist/Maker:
Attributed to the Syleus Painter (Greek (Attic), active 490 - 470 B.C.)

Place:
Athens, Greece (Place created)

Dimensions:
36.8 x 35.7 cm (14 1/2 x 14 1/16 in.)
Made in Athens in the red-figure technique, this vase depicts the departure of Triptolemos, who sits in his winged chariot ready to fly away to teach the secrets of agriculture to mortals. Triptolemos, a mortal himself, was connected with the cult of Demeter, the goddess of fertility, and with the Eleusinian Mysteries, which promised a rewarding afterlife to initiates in the goddess's cult. On this vase gods, goddesses, and personifications connected with the cult, including Demeter, Kore, and Hades, surround Triptolemos. Depictions of Triptolemos's mission were very popular in the early 400s B.C., presumably owing to the popularity of the cult.

This type of vase is called a dinos or mixing bowl. The Greeks produced a very strong wine, which they drank mixed with water. A dinos would be used at a symposium or drinking party to mix and serve the diluted wine. The foot or base of this dinos is unusual; dinoi usually had rounded bottoms and were set into a separately formed stand.
---