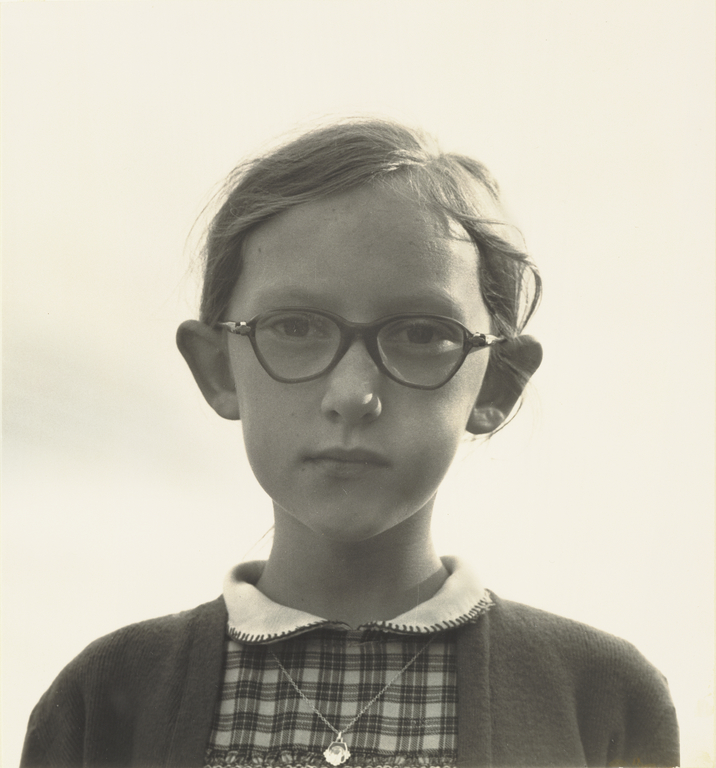 A Young Girl in Ennis, Ireland

Dorothea Lange (American, 1895 - 1965) 24.1 x 22.4 cm (9 1/2 x 8 13/16 in.) 2000.43.11
Not currently on view
Title:
A Young Girl in Ennis, Ireland
Place:
Ennis, Ireland (Place depicted)

Dimensions:
24.1 x 22.4 cm (9 1/2 x 8 13/16 in.)
Copyright:
© Oakland Museum of California, the City of Oakland
Lange believed that photographs should be made "not to show how great we are, but to show what it's like." In 1954 she undertook an assignment for a photographic essay for Lifemagazine and spent two months in the Irish countryside documenting the bleak life of the inhabitants of what the magazine dubbed the "land of the devout." Facing her subject head-on, Lange centered her Rolleiflex camera on the schoolgirl under natural lighting conditions. The neutral background enhances the sustained intimacy of the portrait. The girl's intense gaze seems to confront both the photographer and the viewer.
In Focus: The Portrait (January 27 to June 14, 2009)
The J. Paul Getty Museum at the Getty Center (Los Angeles), January 27 to June 14, 2009
Keller, Judith. In Focus: Dorothea Lange. Photographs from the J. Paul Getty Museum. (Los Angeles: J. Paul Getty Museum, 2002), p.73.
---