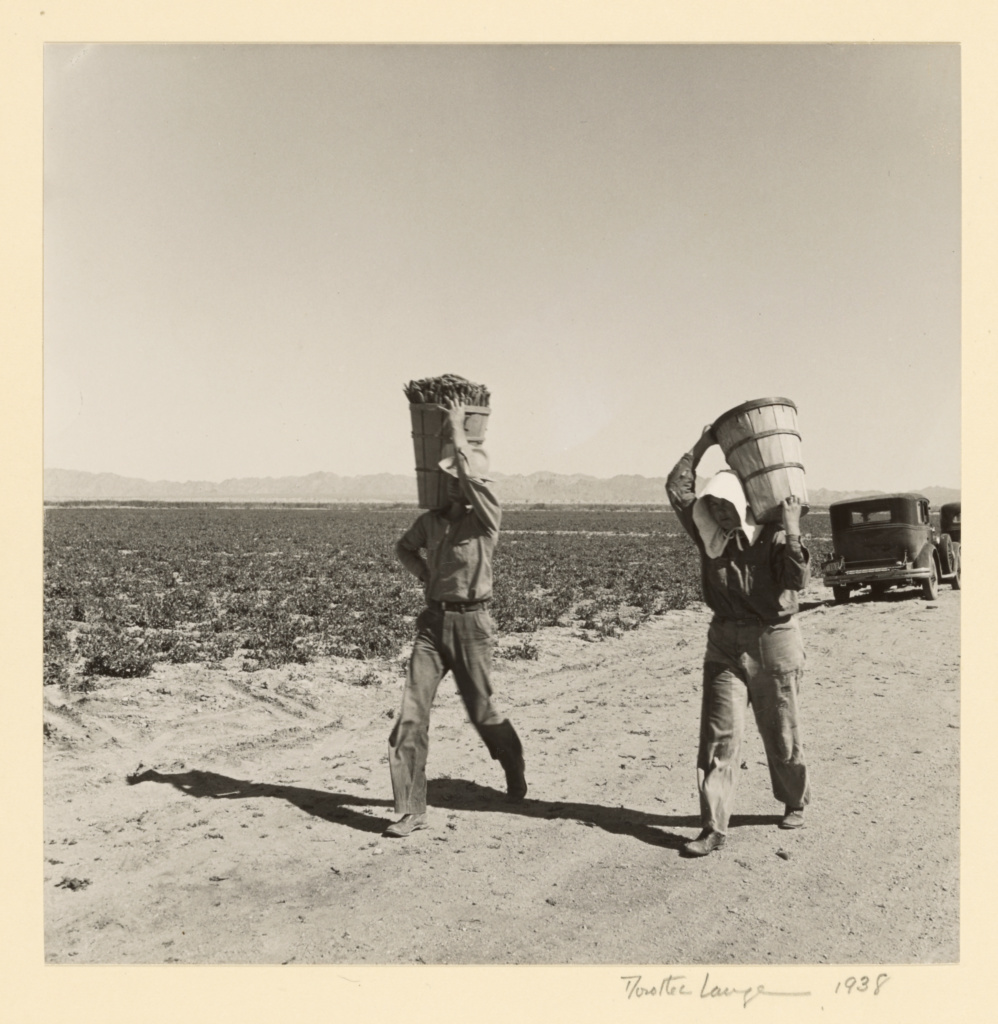 Farm Workers, South of Tracy, California

Dorothea Lange (American, 1895 - 1965) 15.1 × 15.1 cm (5 15/16 × 5 15/16 in.) 2000.43.4
Not currently on view
Title:
Farm Workers, South of Tracy, California
Place:
Tracy, California, United States (Place depicted)

Dimensions:
15.1 × 15.1 cm (5 15/16 × 5 15/16 in.)
After picking produce from an expansive field farmed by machinery, this couple carries their harvest to a scale. Despite the weight of their baskets, these seasonal workers were paid miserable wages. Dorothea Lange made this photograph in 1938 near Tracy, California, a stopping place for migrant laborers looking for work. At the time, hundreds of migrants were arriving in California every day. Many of the new arrivals had been working as tenant farmers in the Midwest until they were replaced by machinery. Others were victims of the Dust Bowl-a period of severe drought that struck the Great Plains of the United States in the early 1930s. Donning a cowboy hat and a large bonnet to keep the sun out of their eyes, Lange's anonymous subjects are shown making their way to the scale in identical strides. Her sharply focused image was meant to record the conditions of migrant laborers, and to compel the government to institute reform measures.
About Life: The Photographs of Dorothea Lange (October 15, 2002 to February 9, 2003)
The J. Paul Getty Museum at the Getty Center (Los Angeles), October 15, 2002 to February 9, 2003
Keller, Judith. In Focus: Dorothea Lange. Photographs from the J. Paul Getty Museum. (Los Angeles: J. Paul Getty Museum, 2002), p.45.
---