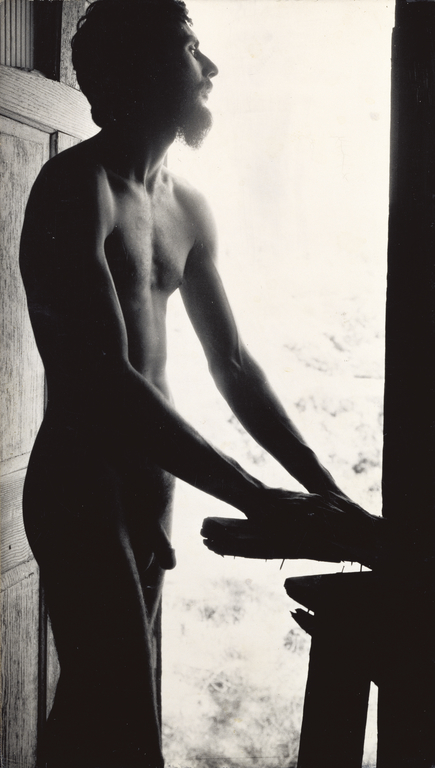 George Herms, Topanga Canyon
Not currently on view
Title:
George Herms, Topanga Canyon
Place:
California, United States (Place Created)
Dimensions:
14.6 × 8.3 cm (5 3/4 × 3 1/4 in.)
Copyright:
© Edmund Teske Archives/Laurence Bump and Nils Vidstrand, 2001
Object Description
Light flooding into a dark interior through an open door emphasizes a man's lean, sensuous body. There is enough light to identify his facial features, but much of his form fuses with the room's shadows. The doorway of blinding light obscures any sense of what is outside. Instead, light and dark function symbolically to create a timeless, spiritual world.

The slim figure in this nude study is artist George Herms, who was a prominent Los Angeles Beat movement artist and a good friend of Edmund Teske. He seems aware of being photographed but relaxed and contemplative as he stands in the doorway of his Topanga Canyon studio.

Teske and Herms became good friends in the 1960s and shared many ideas about life and art-particularly a fascination for abandoned objects marked by the passage of time. Herms often incorporated discarded items into his sculptural assemblages, while Teske was fond of photographing the same types of subjects. Here, Teske took a similar approach to portraiture as he did to his found-object subjects, aiming to evoke a sense of metaphorical transformation.
Exhibitions
Spirit into Matter: The Photographs of Edmund Teske (June 15, 2004 to July 31, 2005)
The J. Paul Getty Museum at the Getty Center (Los Angeles), June 15 to September 26, 2004
The Art Institute of Chicago, May 21 to July 31, 2005
Paris - Los Angeles (March 8 to June 26, 2006)
Centre Georges Pompidou (Paris), March 8 to June 26, 2006
---