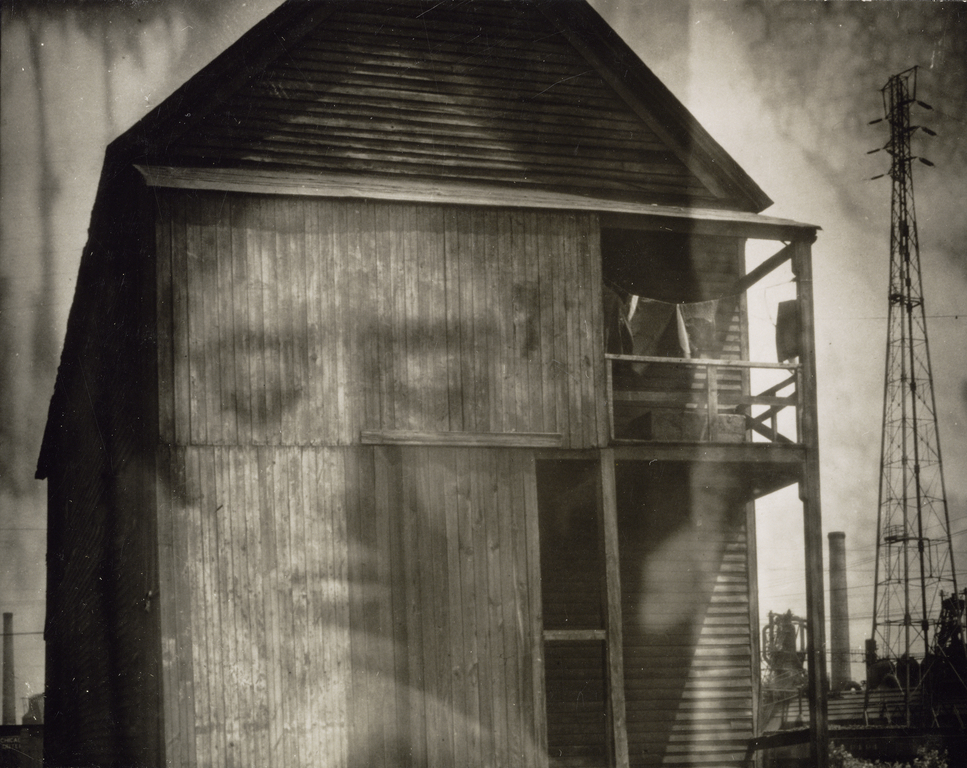 Facade, Chicago, Composite with Shirley Berman

Edmund Teske (American, 1911 - 1996) 9.2 × 11.7 cm (3 5/8 × 4 5/8 in.) 2002.28.5
Not currently on view
Title:
Facade, Chicago, Composite with Shirley Berman
Place:
Chicago, Illinois, United States, North America (Place created)

Date:
1940 and 1956; print 1956
Dimensions:
9.2 × 11.7 cm (3 5/8 × 4 5/8 in.)
Copyright:
© Edmund Teske Archives/Laurence Bump and Nils Vidstrand, 2001
This dreamlike image of a female face on the side of a building is the result of two images printed to appear as one. The woman's visage is set against "masculine" elements such as the building's rough exterior, and in the distance, a smokestack and electrical tower. Hanging clothes soften this stark industrial world, and the woman's closed eyes and thoughtful expression set a contemplative mood.

Teske photographed the landscape in 1940 in a steel industry shantytown on the outskirts of Chicago. The image is sandwiched with a 1956 negative portraying Shirley Berman, the wife of Wallace Berman, a Beat movement artist and poet. Both were friends of Teske in Los Angeles; he often used Shirley's portrait in composite pictures as an archetypal female figure.

For Teske, printing old negatives had a nostalgic and symbolic function. The composite photograph created a timeless, if not idealized, world that would otherwise be out of reach with a more conventional photographic approach. This composite image hints at a psychological state: the realm of the imagination.
-
Laurence Bump and Nils Vidstrand
Spirit into Matter: The Photographs of Edmund Teske (June 15, 2004 to July 31, 2005)
The J. Paul Getty Museum at the Getty Center (Los Angeles), June 15 to September 26, 2004
The Art Institute of Chicago, May 21 to July 31, 2005
| Education Resource | Subjects | Grades | Format |
| --- | --- | --- | --- |
| | Visual Arts; English–Language Arts | 3-5 | Three/Five-Part Lesson |
---