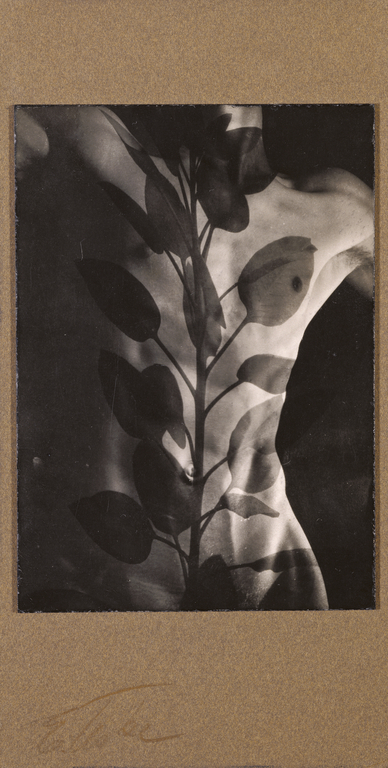 Nude, Davenport, Iowa, Composite with Leaves

Edmund Teske (American, 1911 - 1996) 15.1 x 10.6 cm (5 15/16 x 4 3/16 in.) 2002.27.4
Not currently on view
Title:
Nude, Davenport, Iowa, Composite with Leaves
Place:
Davenport, Iowa, United States (Place created)

Date:
negative 1941 and 1946; print 1960s
Medium:
Gelatin silver composite print
Dimensions:
15.1 x 10.6 cm (5 15/16 x 4 3/16 in.)
Copyright:
© Edmund Teske Archives/Laurence Bump and Nils Vidstrand, 2001
Teske, based in Los Angeles, often returned to his old negatives for inspiration. Here one negative is printed on top of another to create an imaginative new picture. His male nude composites are candidly erotic and symbolize the process of transformation to which all life is subject. The plant sprouting from the model's loins, wrapping itself delicately around the body, simultaneously conceals and reveals the figure.
-
Laurence Bump and Nils Vidstrand
Spirit into Matter: The Photographs of Edmund Teske (June 15, 2004 to July 31, 2005) (64)
The J. Paul Getty Museum at the Getty Center (Los Angeles), June 15 to September 26, 2004
The Art Institute of Chicago, May 21 to July 31, 2005
In Focus: The Nude (October 9, 2007 to February 24, 2008)
The J. Paul Getty Museum at the Getty Center (Los Angeles), October 9, 2007 to February 24, 2008
---