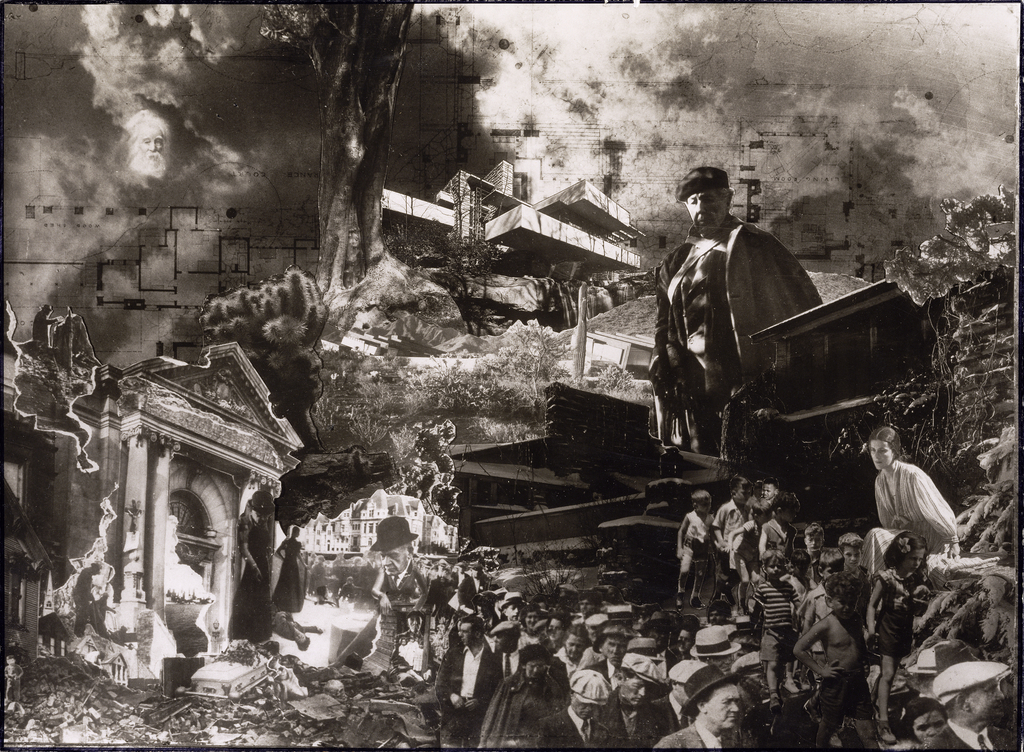 [Frank Lloyd Wright - An American Portrait]

Edmund Teske (American, 1911 - 1996) 25.2 × 34.4 cm (9 15/16 × 13 9/16 in.) 2002.28.1
Title:
[Frank Lloyd Wright - An American Portrait]
Date:
negative 1936 - 1945; print 1970s
Medium:
Gelatin silver composite print
Dimensions:
25.2 × 34.4 cm (9 15/16 × 13 9/16 in.)
Copyright:
© Edmund Teske Archives/Laurence Bump and Nils Vidstrand, 2001
We are both poets. Frank Lloyd Wright was not first of all an architect, he was first of all a poet, expressing himself in terms of architecture, and so a building becomes a poetic statement.
--Edmund Teske

In 1936, Edmund Teske spent several weeks at architect Frank Lloyd Wright's living quarters at Taliesin North in Spring Green, Wisconsin. Teske was there to photograph the architect, Taliesin's buildings and grounds, and Wright's apprentices. The creative atmosphere that Teske encountered there made a profound impression on him that lasted throughout his life.

For more than three decades beginning in 1940, Teske spent time working on this montage, which represents Wright's achievements. Teske layered and tore his prints and re-photographed them. Wright's portrait and his famous building Fallingwater form the central focus of the montage, overlapping floor plans of architectural studios and images of Taliesin West and North. The seated woman in the lower right is Wright's third wife, Olgivanna. Wright himself floats above a landscape of dilapidated looking traditional architecture and images of ordinary Americans whom Teske saw as symbolic of society.

This collage reflects Teske's internalization of the architect's philosophy. Wright had rejected the ornate style of traditional architecture in favor of sleek, simple lines and natural materials. His organic style emphasized the spiritual and symbiotic ties between nature and architecture. Teske assimilated those concepts and combined them with an interest in Vedantic Hinduism, which teaches that time is fluid and cyclical. Teske's homage to Wright suggests his belief in the interconnection of life experiences.
-
Laurence Bump and Nils Vidstrand
Spirit into Matter: The Photographs of Edmund Teske (June 15, 2004 to July 31, 2005)
The J. Paul Getty Museum at the Getty Center (Los Angeles), June 15 to September 26, 2004
The Art Institute of Chicago, May 21 to July 31, 2005
| Education Resource | Subjects | Grades | Format |
| --- | --- | --- | --- |
| | Visual Arts; English–Language Arts | 3-5 | Three/Five-Part Lesson |
---