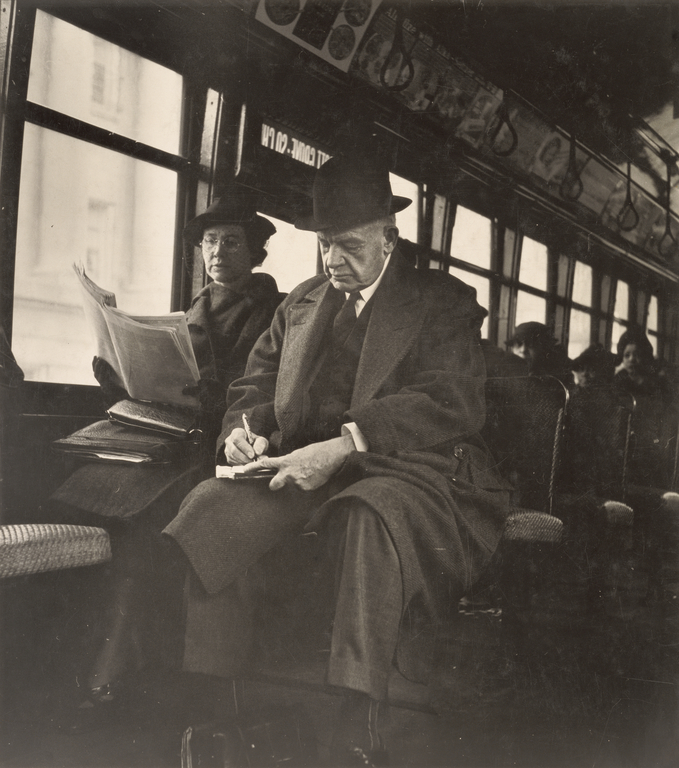 Place:
Chicago, Illinois, United States (Place created)

Dimensions:
21.9 x 19.7 cm (8 5/8 x 7 3/4 in.)
Copyright:
© Edmund Teske Archives/Laurence Bump and Nils Vidstrand, 2001
While riding streetcars and subways, passengers often spend their time reading the newspaper, planning the day ahead of them, or reflecting on the day that has just passed. Maintaining his anonymity, as well as that of his subjects, Edmund Teske observed and photographed passengers engaged in these ordinary commuter activities. His choice of subject matter was not unique: at about the same time, Walker Evans was photographing passengers on the New York City subway. Teske and Evans both appreciated the snapshot aesthetic and the informal poses of passengers absorbed in their activities.
-
Laurence Bump and Nils Vidstrand
Railroad Vision (March 3 to June 23, 2002)
The J. Paul Getty Museum at the Getty Center (Los Angeles), March 5 to June 23, 2002
Spirit into Matter: The Photographs of Edmund Teske (June 15, 2004 to July 31, 2005) (19)
The J. Paul Getty Museum at the Getty Center (Los Angeles), June 15 to September 26, 2004
The Art Institute of Chicago, May 21 to July 31, 2005
---