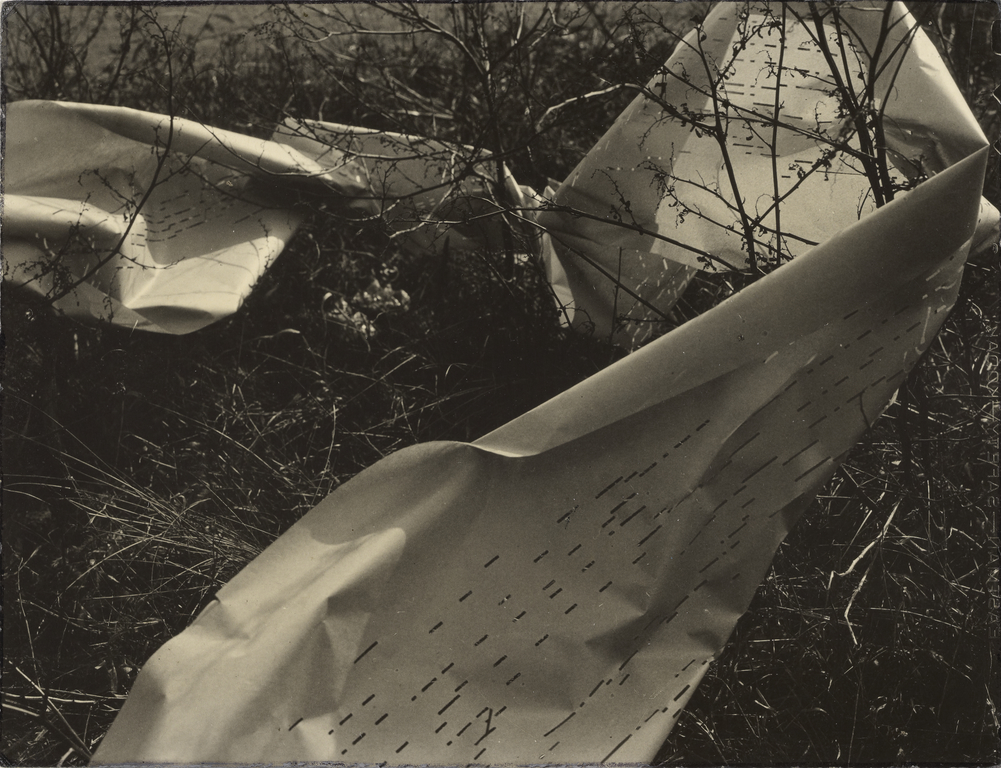 Chicago

Edmund Teske (American, 1911 - 1996) 9.2 x 12 cm (3 5/8 x 4 3/4 in.) 2001.53.9
Not currently on view
Place:
Chicago, Illinois, United States (Place created)

Dimensions:
9.2 x 12 cm (3 5/8 x 4 3/4 in.)
Copyright:
© Edmund Teske Archives/Laurence Bump and Nils Vidstrand, 2001
Anything is art depending on what attitude you bring to it. . . . Art is a matter of picking up the mundane and giving it a higher level of expression.
--Edmund Teske

The subject of this Edmund Teske photograph is both elusive and mundane: a discarded piece of paper lying in a field of grass, rumpled from being blown about. What is most noticeable is the pattern of elongated holes that puncture the strip in intervals. These punched holes are obviously manmade; they appear too regularly spaced and square-shaped to be caused by the branches that the paper is snagged on.

This image was part of a series of studies that Teske made of his hometown, Chicago, in which he documented the rundown industrial environment on the city's South Side during the late 1930s. This strip of paper once had a purpose: It generated music from a pianola, or player piano, whose keys performed the notes coded as holes in the paper. Now discarded, it could be imagined that a wind gusting across the prairie might cause a soft whistling sound as it passes through the holes. Although the strip of paper no longer performs the music it was meant to play, by photographing it Teske suggested that even in its rumpled state, it is still worth looking at.
-
Laurence Bump and Nils Vidstrand
Spirit into Matter: The Photographs of Edmund Teske (June 15, 2004 to July 31, 2005) (50)
The J. Paul Getty Museum at the Getty Center (Los Angeles), June 15 to September 26, 2004
The Art Institute of Chicago, May 21 to July 31, 2005
The Photographs of Ray K. Metzker and the Institute of Design (September 25, 2012 to February 24, 2013)
The J. Paul Getty Museum at the Getty Center (Los Angeles), September 25, 2012 to February 24, 2013
---