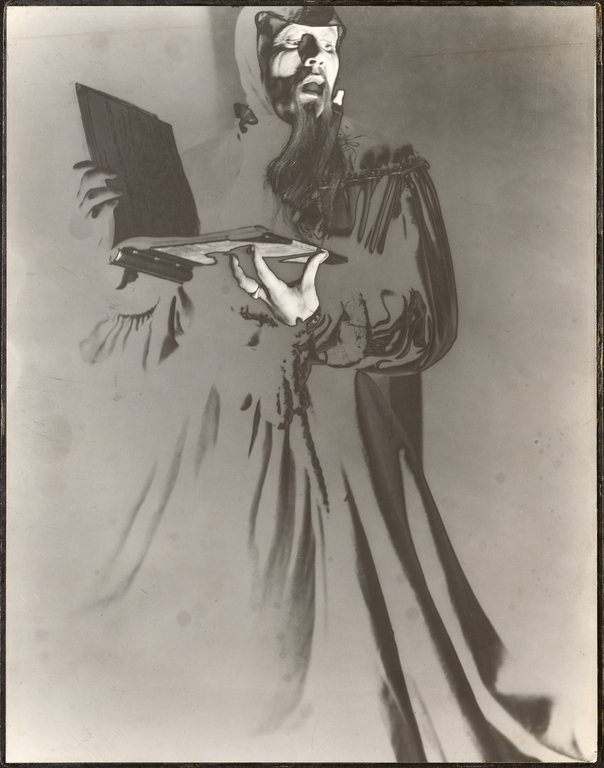 Robert Schrewsbury as "Mephisto" in "Faust", Chicago

Edmund Teske (American, 1911 - 1996) 31.3 x 24.4 cm (12 5/16 x 9 5/8 in.) 2001.53.30
Not currently on view
Title:
Robert Schrewsbury as "Mephisto" in "Faust", Chicago
Place:
Chicago, Illinois, United States (Place created)

Medium:
Solarized gelatin silver print
Dimensions:
31.3 x 24.4 cm (12 5/16 x 9 5/8 in.)
Copyright:
© Edmund Teske Archives/Laurence Bump and Nils Vidstrand, 2001
The gods received me into the secret chambers of an exquisite photographic happening, which for me is the high point of purity.
--Edmund Teske

Clutching a book of spells, Mephisto the devil summons his evil powers to control the soul of the alchemist and poet, Faust. He towers ominously above eye level, taking up most of the picture frame. Like Johann Wolfgang von Goethe's heroic character in the play, Faust, photographer Edmund Teske himself was a gifted alchemist. His darkroom experiments sometimes led to brilliant discoveries, as it did with this image.

The print's partially reversed tones, especially visible in the subject's robe and beard, resulted from Teske's accidental solarization of the negative. This effect heightens the moment's drama, emphasizing the low, frontal stage lighting, which casts eerie shadows on Mephisto's pallid face. As Teske developed the 8-by-10-inch negatives he had exposed during the theater production, he accidentally flashed this one with light.

Teske had always admired Man Ray's solarized photographs but could not find out how they were made. After his own fortuitous discovery of solarization, Teske quickly gained control of the technique and continued using it throughout his career as a means to heighten creative expression.
-
Laurence Bump and Nils Vidstrand
Spirit into Matter: The Photographs of Edmund Teske (June 15, 2004 to July 31, 2005) (8)
The J. Paul Getty Museum at the Getty Center (Los Angeles), June 15 to September 26, 2004
The Art Institute of Chicago, May 21 to July 31, 2005
---