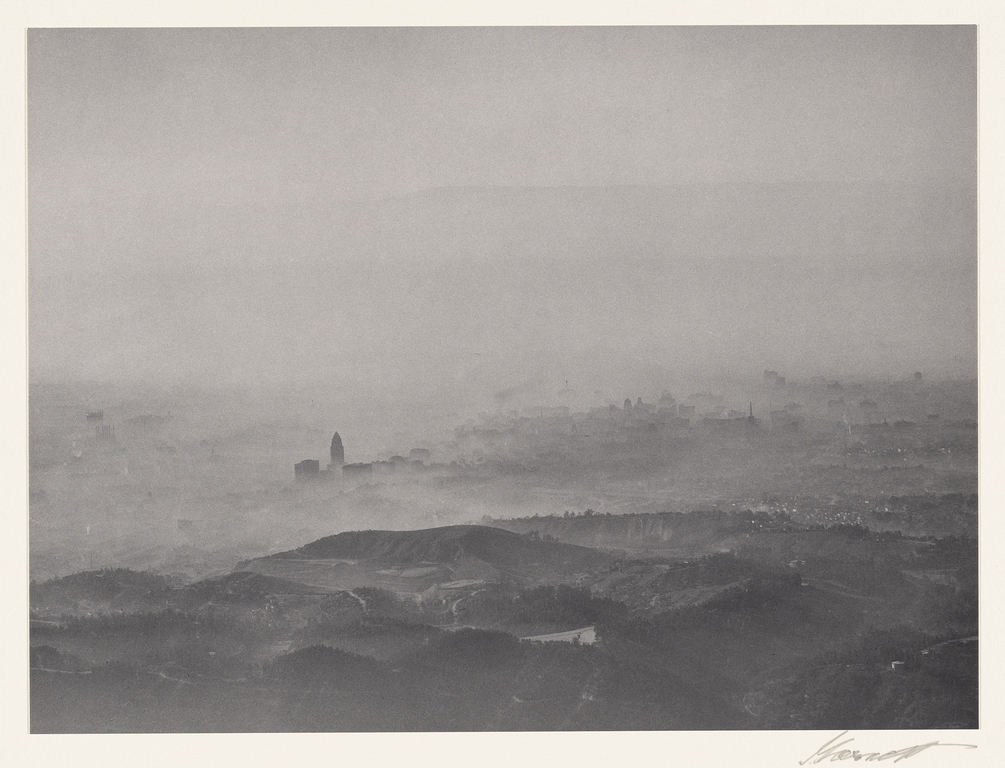 Smog, Los Angeles

William A. Garnett (American, 1916 - 2006) 25.2 x 34 cm (9 15/16 x 13 3/8 in.) 2000.32.23
Not currently on view
Place:
Los Angeles, California, United States (Place created)

Dimensions:
25.2 x 34 cm (9 15/16 x 13 3/8 in.)
Copyright:
© Estate of William A. Garnett
An ardent conservationist, Garnett became concerned about land use and air pollution in the early 1940s. He made this photograph in an attempt to raise public awareness. Over the years Garnett came to believe that he was more likely to inspire positive change by pointing out nature's enduring beauty than by showing the ugliness caused by poor choices.
-
William A. Garnett, American, 1916 - 2006
Recent Acquisitions: Eugene Atget, Brett Weston, William Garnett, Milton Rogovin (February 3 to May 30, 2004)
The J. Paul Getty Museum at the Getty Center (Los Angeles), February 3 to May 30, 2004
In Focus: The Sky (July 15 to December 4, 2011)
The J. Paul Getty Museum at the Getty Center (Los Angeles), July 26 to December 4, 2011
Overdrive: L.A. Constructs the Future 1940 - 1990 (April 9, 2013 to March 10, 2014) (Plate 9)
The J. Paul Getty Museum at the Getty Center (Los Angeles), April 9 to July 21, 2013
The National Building Museum (Washington), October 20, 2013 to March 10, 2014
---