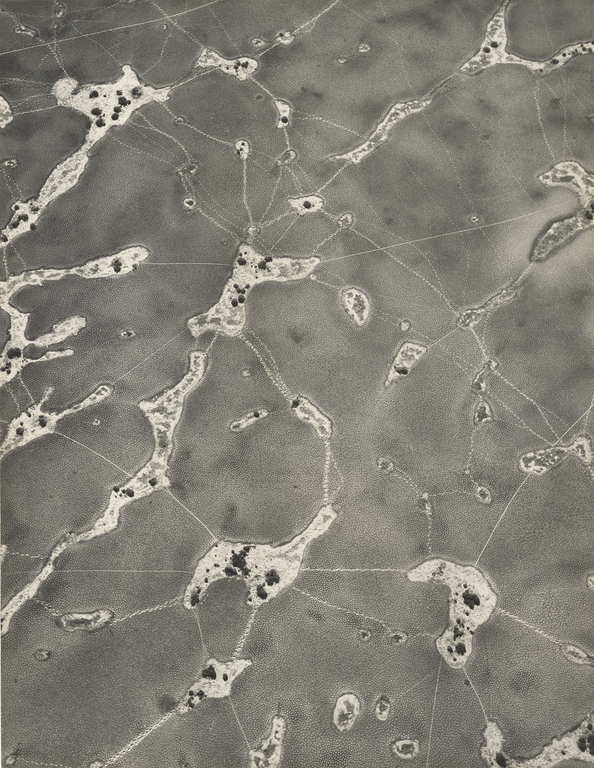 Rabbit and Cattle Tracks, Carrizo Plain, California
Not currently on view
Title:
Rabbit and Cattle Tracks, Carrizo Plain, California
Place:
California, United States (Place Created)
Dimensions:
34.1 × 26.4 cm (13 7/16 × 10 3/8 in.)
Copyright:
© Estate of William A. Garnett
Object Description
Those lines are trails from one batch of vegetation to the other, because that's a dry lake area and the vegetation is in the little islands. ...I have a photographer friend who drove out and camped there, and he said "Early in the morning I see rabbits running from one place to the other." The cattle were on a farm on the edge of that lake.
--William Garnett

This photograph looks like it was made through a microscope. Whitish, amoebalike forms sprawl across the image, connected by weblike lines and clusters of black dots resembling nuclei. However, this image is not a view of microorganisms but a landscape photographed from the air.

William Garnett made this image from the window of his Cessna airplane as he flew across the Carrizo Plain on one of his frequent flight paths. The plain is about 100 miles northeast of Los Angeles.

The land has a scalelike texture to it, and patchy shadows are cast from cloud formations above the plain. The more prominent dotted lines are cattle tracks and the straight lines are rabbit runs.Garnett's photographs, like this one, reveal landscape's natural beauty, which he could not otherwise make visible from an ordinary, earthbound perspective.
Exhibitions
Recent Acquisitions: Eugene Atget, Brett Weston, William Garnett, Milton Rogovin (February 3 to May 30, 2004)
The J. Paul Getty Museum at the Getty Center (Los Angeles), February 3 to May 30, 2004
Education Resources
| Education Resource | Subjects | Grades | Format |
| --- | --- | --- | --- |
| Students discuss landscape photography and consider the history of Los Angeles and the environmental impact of overpopulation. | Visual Arts; History–Social Science | 9-12 | Two-Part Lesson |
---