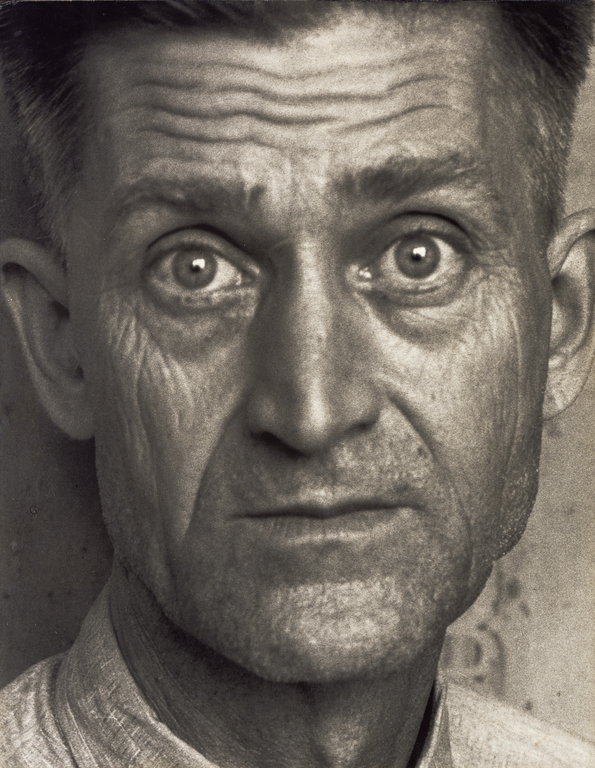 J.R. Butler, President of the Southern Tennant Farmers union, Memphis, Tennessee

Dorothea Lange (American, 1895 - 1965) 33.7 x 26.4 cm (13 1/4 x 10 3/8 in.) 2000.50.10
Not currently on view
Title:
J.R. Butler, President of the Southern Tennant Farmers union, Memphis, Tennessee
Place:
Memphis, Tennessee, United States (Place created)

Date:
negative June 1938; print about 1950s
Dimensions:
33.7 x 26.4 cm (13 1/4 x 10 3/8 in.)
Copyright:
© Oakland Museum of California, the City of Oakland
When Dorothea Lange originally photographed J.R. Butler, she created a waist-length portrait; however, she cropped the image years later to create a direct human confrontation in which Butler's wide-eyed, earnest expression demands attention. As the President of the Southern Tenant Farmers Union, Butler played an instrumental role in bringing the economic plight of tenant farmers and sharecroppers to the attention of landlords and the Roosevelt Administration. Farm owners responded with threats and evictions for the union leaders. Butler, whose every wrinkle reveals the hardships faced by tenant farmers, embodied the determination of workers who sought to effect change.
The Public Record: Photographs of the Great Depression from the J. Paul Getty Museum (March 10 to May 19, 2002)
Pomona College Museum of Art (Claremont), March 10 to May 19, 2002
About Life: The Photographs of Dorothea Lange (October 15, 2002 to February 9, 2003)
The J. Paul Getty Museum at the Getty Center (Los Angeles), October 15, 2002 to February 9, 2003
---