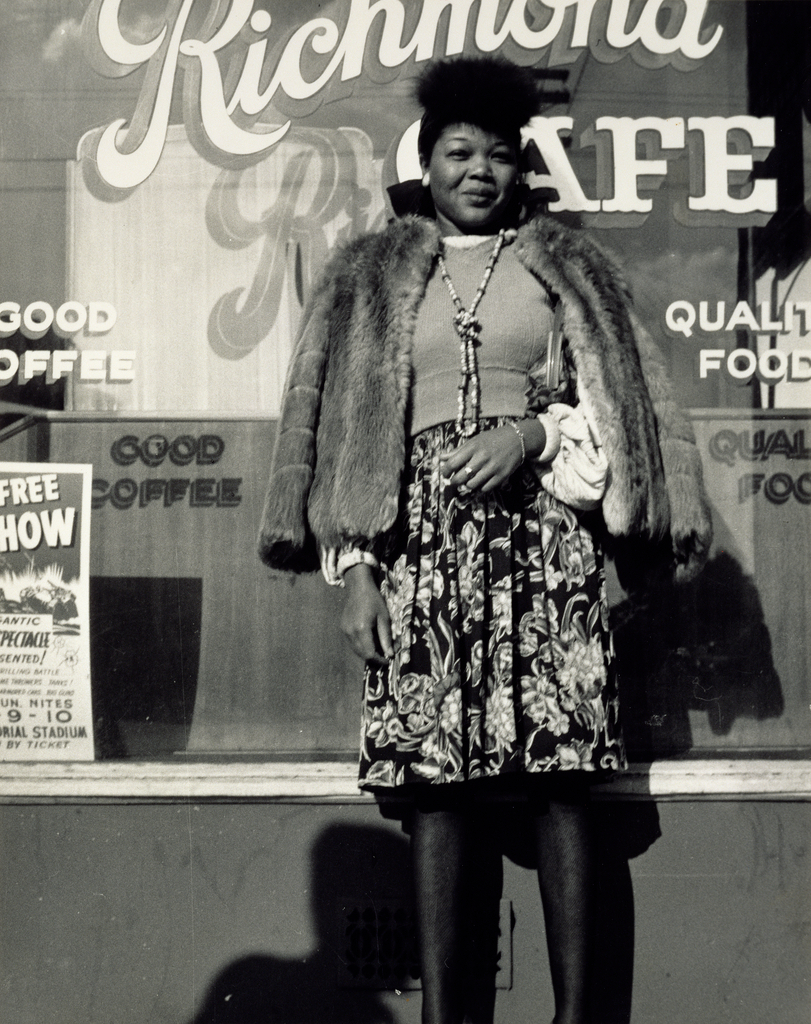 Richmond, California / "It Was Never Like This Back Home"

Dorothea Lange (American, 1895 - 1965) 24.8 x 19.7 cm (9 3/4 x 7 3/4 in.) 2000.50.17
Not currently on view
Title:
Richmond, California / "It Was Never Like This Back Home"
Place:
Richmond, California, United States (Place depicted)

Dimensions:
24.8 x 19.7 cm (9 3/4 x 7 3/4 in.)
Copyright:
© Oakland Museum of California, the City of Oakland
With a fur jacket draped over her shoulders, this woman appears strangely overdressed for broad daylight-and for the casual Richmond Café behind her. During World War II, Richmond, California was home to the largest and most productive enterprise of the war, the Kaiser shipyards. Shipyard employees could work any one of three 8-hour shifts per day. Night shift workers sought typical evening activities during the day, which may explain this young woman's somewhat flamboyant attire. This is one of many photographs of Richmond that Dorothea Lange, along with photographer Ansel Adams, made for Fortune magazine, which wanted to document life in the wartime boomtown.
About Life: The Photographs of Dorothea Lange (October 15, 2002 to February 9, 2003)
The J. Paul Getty Museum at the Getty Center (Los Angeles), October 15, 2002 to February 9, 2003
---