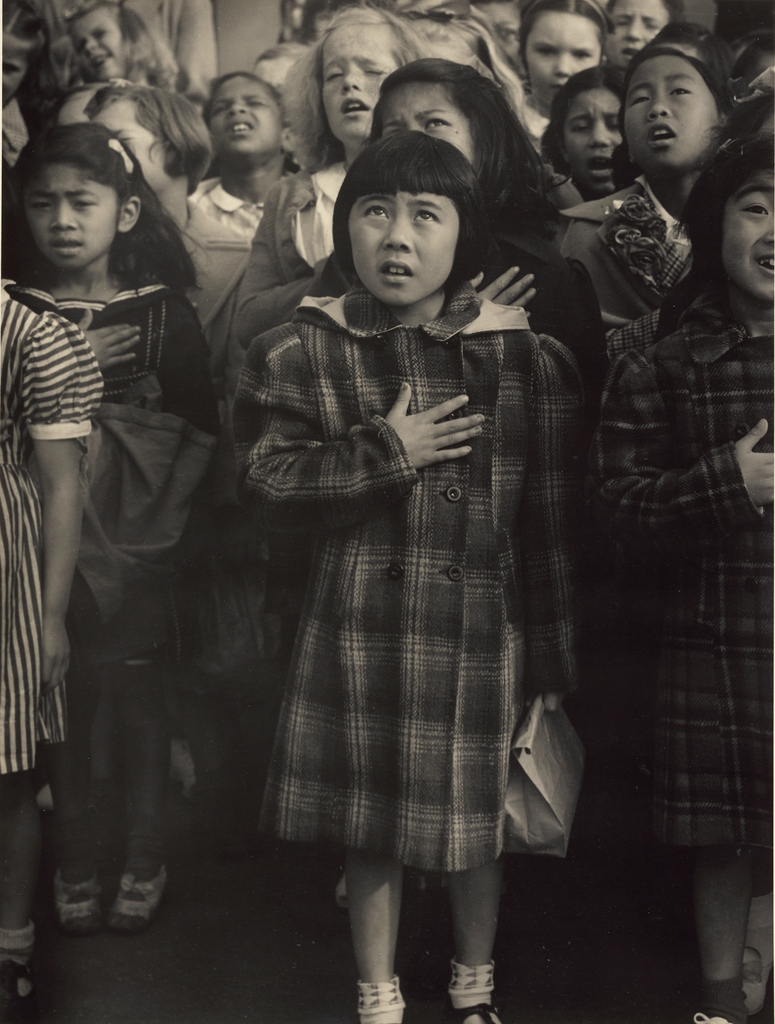 Pledge of Allegiance, Raphael Weill Elementary School, San Francisco

Dorothea Lange (American, 1895 - 1965) 34 × 25.6 cm (13 3/8 × 10 1/16 in.) 2000.50.16
Not currently on view
Title:
Pledge of Allegiance, Raphael Weill Elementary School, San Francisco
Place:
San Francisco, California, United States (Place created)

Date:
negative April 20, 1942; print about 1960s
Dimensions:
34 × 25.6 cm (13 3/8 × 10 1/16 in.)
I pledge allegiance to the flag of the United States of America and to the Republic for which it stands, one Nation under God, indivisible, with liberty and justice for all.

Clutching her lunchbag, this schoolgirl places her right hand on her heart to recite the Pledge of Allegiance. Dorothea Lange made this photograph at the Raphael Weill School in San Francisco's Japantown. A few weeks after Lange captured this image, the U.S. government relocated this innocent girl, and thousands of other Japanese Americans, to desolate areas east of the Sierra Nevada Mountains.

The attack on Pearl Harbor, which marked the beginning of direct American involvement in World War II, triggered the rise of assaults on the Japanese in America. Lange's photograph speaks to a shameful part of America's history, when all persons of Japanese descent were forced into internment camps because of their supposed risk to national security. President Franklin D. Roosevelt authorized these detentions as protection against espionage and sabotage.
The American Tradition and Walker Evans (July 10 to October 28, 2001)
The J. Paul Getty Museum at the Getty Center (Los Angeles), July 10 to October 28, 2001
About Life: The Photographs of Dorothea Lange (October 15, 2002 to February 9, 2003)
The J. Paul Getty Museum at the Getty Center (Los Angeles), October 15, 2002 to February 9, 2003
Manzanar: The Wartime Photographs of Ansel Adams (October 8, 2015 to February 21, 2016)
Skirball Museum (Los Angeles), October 8, 2015 to February 21, 2016
---