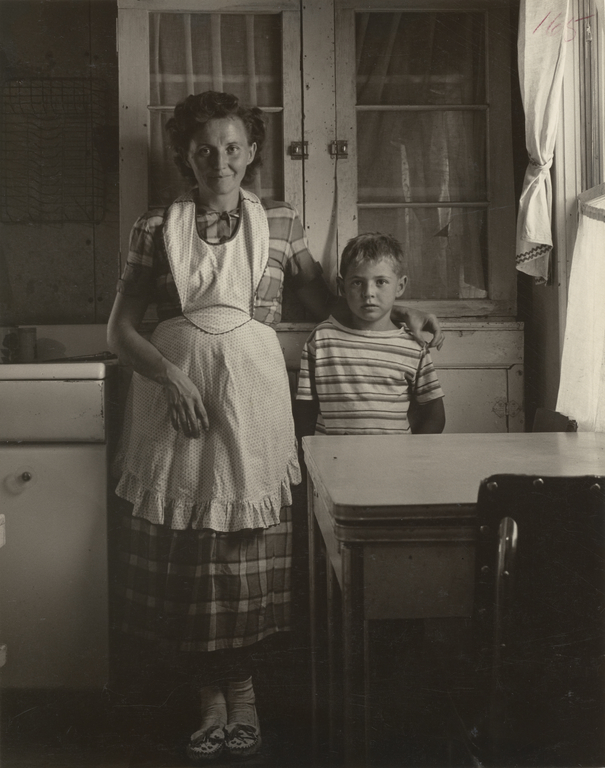 Young Mother and Son, Gunlock, Washington County, Utah

Dorothea Lange (American, 1895 - 1965) 24.1 x 19 cm (9 1/2 x 7 1/2 in.) 2000.50.32
Not currently on view
Title:
Young Mother and Son, Gunlock, Washington County, Utah
Place:
Gunlock, Utah, Washington County, United States (Place depicted)

Dimensions:
24.1 x 19 cm (9 1/2 x 7 1/2 in.)
Copyright:
© Oakland Museum of California, the City of Oakland
If you run out of money here in Gunlock, you can go and pick yourself something out of the garden.

The security of this woman's environment is reflected in this statement, made to Dorothea Lange while she was producing a photo-essay for LIFE magazine. Gunlock, an isolated Mormon community of twenty-two families, was one of three villages in Southern Utah that Lange photographed in collaboration with Ansel Adams. Lange, who posed this young woman with and without her son and canning fruit in her kitchen, described the small town as "full of friends and horses and children."

Although none of the images of this Utah mother appeared in LIFE, Lange did include her in The American Country Woman, a portfolio she prepared in the 1960s, and in a book on the theme published posthumously. Thirty-four images by Lange and Adams, with text written by Lange's son, Daniel Dixon, were published in the September 6, 1954 issue of LIFEmagazine.
About Life: The Photographs of Dorothea Lange (October 15, 2002 to February 9, 2003)
The J. Paul Getty Museum at the Getty Center (Los Angeles), October 15, 2002 to February 9, 2003
Keller, Judith. In Focus: Dorothea Lange. Photographs from the J. Paul Getty Museum. (Los Angeles: J. Paul Getty Museum, 2002), p.66.
---