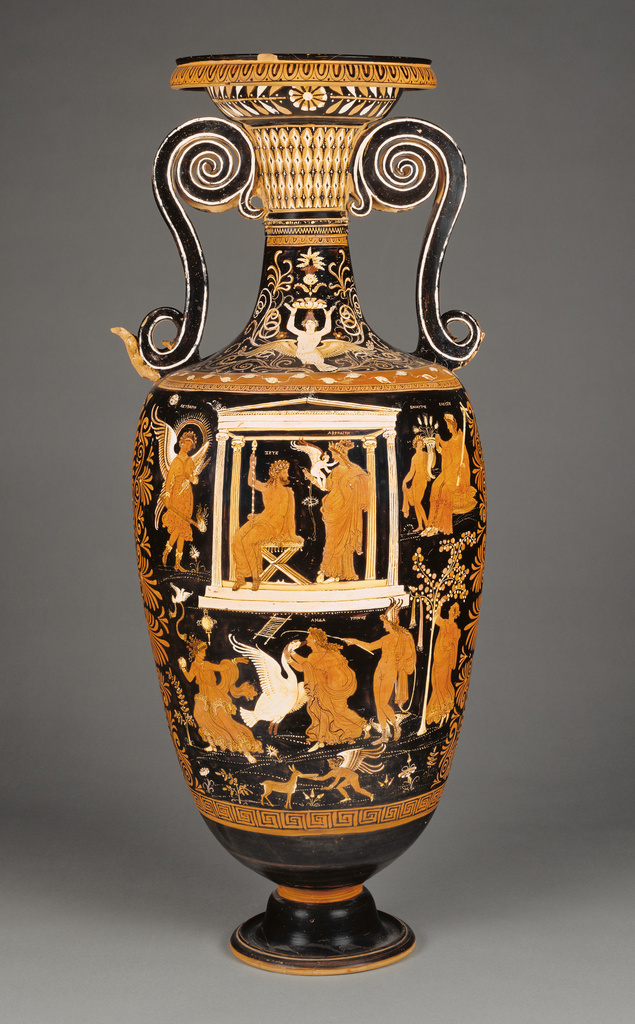 Apulian Red-Figure Loutrophoros

Attributed to Painter of Louvre MNB 1148 (Greek (Apulian), active 350 - 330 B.C.) 90.2 x 26 cm (35 1/2 x 10 1/4 in.) 86.AE.680
Open Content images tend to be large in file-size. To avoid potential data charges from your carrier, we recommend making sure your device is connected to a Wi-Fi network before downloading.
This image is available for download, without charge, under the Getty's Open Content Program.
Currently on view at: Getty Villa, Gallery 104, Gods and Goddesses
Title:
Apulian Red-Figure Loutrophoros
Culture:
Greek (South Italian, Apulian)
Place(s):
Apulia, South Italy (Place created)
Dimensions:
90.2 x 26 cm (35 1/2 x 10 1/4 in.)
With elaborate scenes on both sides, this loutrophoros or ritual vase is characteristic of the work of vase painters in southern Italy around 330 B.C. The multilevel composition on one side shows successive moments in one of the god Zeus's many seductions of a mortal woman. At the bottom, Zeus in the form of a swan approaches Leda. Above, Zeus meets with Aphrodite, the goddess of love, presumably enlisting her help for the seduction. Both episodes are surrounded by personifications. The vase's other side displays a woman in a naiskos, a small open building, surrounded by attendants. Beginning in the 600s B.C., Greeks colonized parts of southern Italy and Sicily. From about 450 B.C., these colonists began producing their own fine, decorated pottery, which eclipsed the imported Athenian wares by the 300s B.C. This pottery, known as South Italian, grew directly out of Athenian shapes, style, and subject matter. The colonists quickly developed their own variations, inventing new shapes, finding their own styles, and depicting subjects not otherwise found in Greek art. Scholars divide South Italian pottery into regional schools of production, the largest of which is Apulian.
---