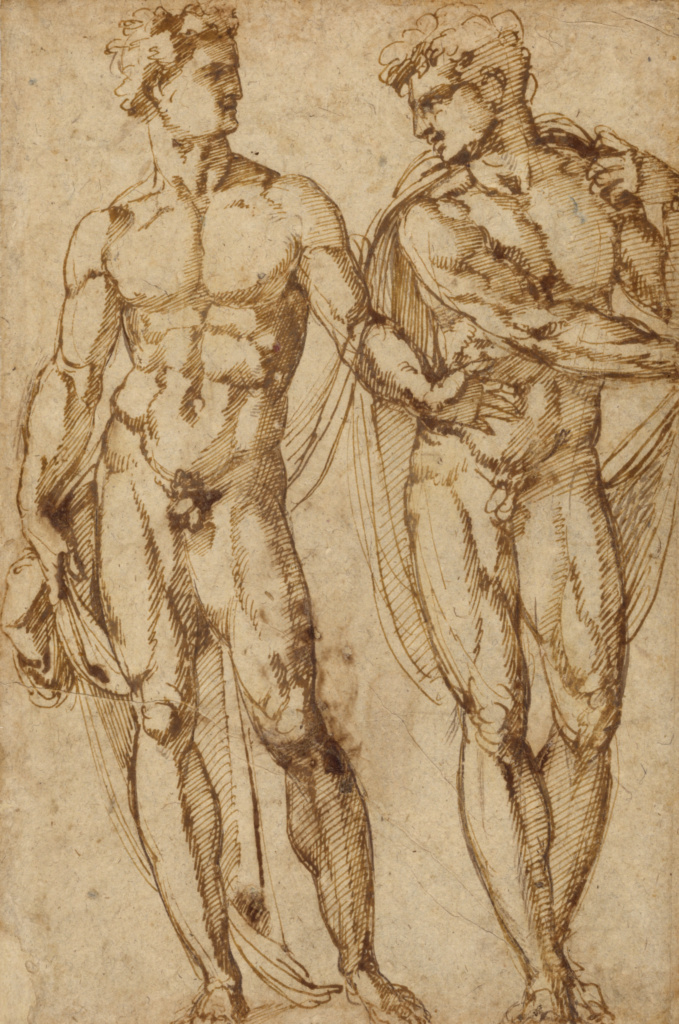 Open Content images tend to be large in file-size. To avoid potential data charges from your carrier, we recommend making sure your device is connected to a Wi-Fi network before downloading.
Not currently on view
Title:
Study of Two Men (recto); Study of the Head of a Bearded Man (verso)
Dimensions:
34 x 22.4 cm (13 3/8 x 8 13/16 in.)
Baccio Bandinelli drew the outlines of each nude with strong, confident lines in pen and brown ink. Using parallel strokes of hatching and cross-hatching, he then indicated both the lighting and the volume of the forms, simply by varying the length and curve of the same strokes. Rippling muscles on the chest, as well as the figures' bulging thighs all appear with a few zigzagging strokes.

Having trained as a sculptor of both marble and bronze, Bandinelli often found inspiration in the work of his more famous contemporary Michelangelo. Having once boasted that he could produce a sculpture that would rival and even surpass Michelangelo's famous statue of David--he was richly ridiculed when he did not--he took elements from that statue for his own work. The right arm of the figure on the left and the left arm of the figure on the right derive from the famous David.

Bandinelli made the drawing on the verso as a preparatory study for the head of Hercules, who looks into the distance with a dark, shadowy face.
-
Anne-Louis Girodet de Roucy-Trioson, French, 1767 - 1824
16-17th Century European Drawings (December 28, 1993 to March 13, 1994)
The J. Paul Getty Museum (Malibu), December 28, 1993 to March 13, 1994
Figure Drawings (December 17, 1996 to April 6, 1997) (recto)
The J. Paul Getty Museum (Malibu), December 17, 1996 to April 6, 1997
The Body Beautiful: Artists Draw the Nude (1440 - 1880) (December 14, 1999 to February 27, 2000) (recto)
The J. Paul Getty Museum at the Getty Center (Los Angeles), December 14, 1999 to February 27, 2000
Michelangelo to Vasari: Drawing the Figure in Renaissance Florence (July 15 to October 19, 2003) (recto)
The J. Paul Getty Museum at the Getty Center (Los Angeles), July 15 to October 19, 2003
The Secret Life of Drawings (November 23, 2010 to February 13, 2011) (recto and verso)
The J. Paul Getty Museum at the Getty Center (Los Angeles), November 23, 2010 to February 13, 2011
Hatched! Creating Form with Line (March 11 to June 1, 2014) (recto)
The J. Paul Getty Museum at the Getty Center (Los Angeles), March 11 to June 1, 2014
---