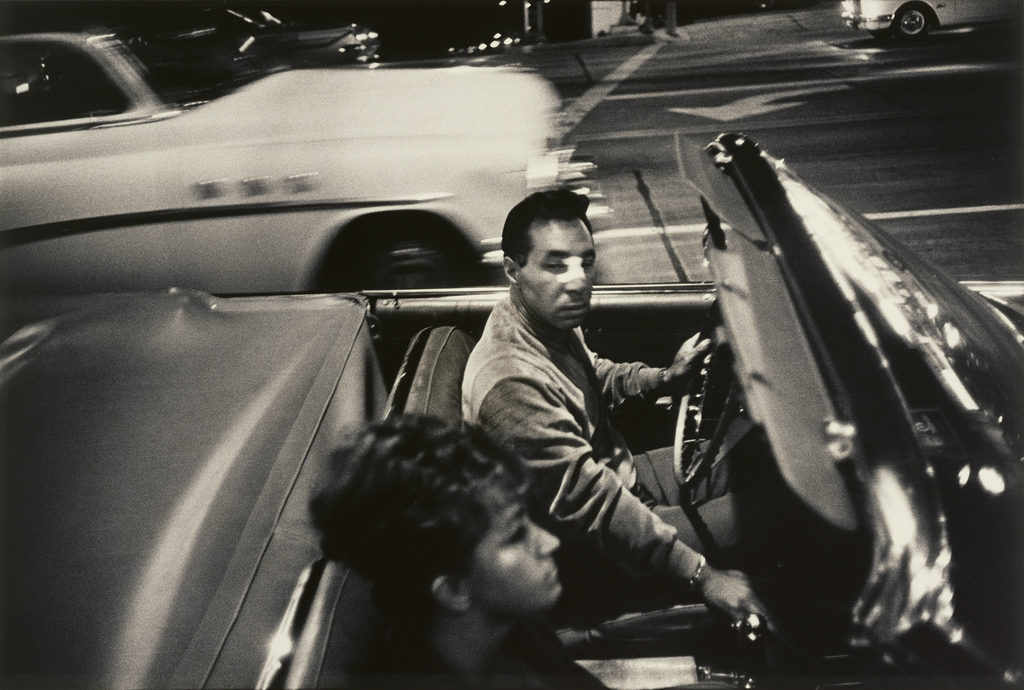 Los Angeles

Garry Winogrand (American, 1928 - 1984) 22.9 × 34.1 cm (9 × 13 7/16 in.) 99.XM.35.1
Not currently on view
Place:
Los Angeles, California, United States (Place created)

Dimensions:
22.9 × 34.1 cm (9 × 13 7/16 in.)
Copyright:
© 1984 The Estate of Garry Winogrand
Most of Winogrand's best pictures-let us say all of his best pictures-involve luck of a different order than that kind of minimal, survivor's luck on which any human achievement depends.

-John Szarkowski in Winogrand: Figments from the Real World

Call it luck, call it circumstance, but when Garry Winogrand set out to photograph, his colleagues observed that surprising things would happen.

Winogrand noticed this odd couple in a parked convertible one night as he wandered Hollywood's Sunset Strip. The man with the bandaged nose glances at his angry-looking female passenger. She seems to be ignoring him. The blurred motion of cars rushing past them underscores how fleeting this moment is.

Winogrand's photograph captures Hollywood's unique combination of glamour and seediness. It specifically calls to mind the dark narratives of film noir-the detective movies of the 1940s and '50s that featured tough guys and femmes fatales. The narrative here is ambiguous, prompting questions as to why this man's nose is bandaged and whether the couple is arguing.
- 1999
Fraenkel Gallery San Francisco, CA, U.S.
Strange Days: Photographs from the Sixties by Winogrand, Eggleston, and Arbus (July 1 to October 5, 2003)
The J. Paul Getty Museum at the Getty Center (Los Angeles), July 1 to October 5, 2003
This Side of Paradise (June 14, 2008 to April 13, 2009)
Huntington Art Collections (San Marino), June 14 to September 14, 2008
In Focus: Los Angeles, 1945 - 1980 (December 20, 2011 to May 6, 2012)
The J. Paul Getty Museum at the Getty Center (Los Angeles), December 20, 2011 to May 6, 2012
---