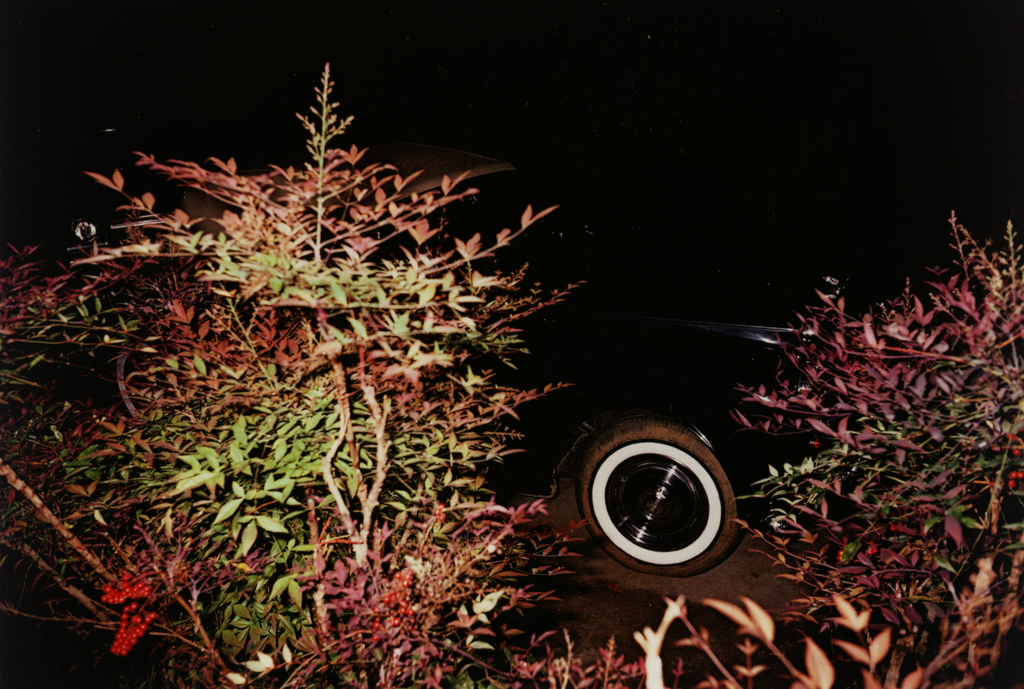 Memphis

William Eggleston (American, born 1939) 20.8 x 30.6 cm (8 3/16 x 12 1/16 in.) 99.XM.21.6
Not currently on view
Place:
Memphis, Tennessee, United States (Place created)

Dimensions:
20.8 x 30.6 cm (8 3/16 x 12 1/16 in.)
Copyright:
© Eggleston Artistic Trust
The gleam of a single whitewall tire betrays the presence of a black car parked discreetly behind the harshly illuminated shrubbery. The wheel glares out like a disembodied eye, peering back at the photographer through the opening in the bushes. A blast of artificial light pulls some pinkish and greenish color out of the mostly black-and-white surrounding foliage.
- 1999
Eggleston Artistic Trust Santa Monica, CA, U.S.
William Eggleston and the Color Tradition (October 26, 1999 to January 30, 2000)
The J. Paul Getty Museum at the Getty Center (Los Angeles), October 26, 1999 to January 30, 2000
William Eggleston (November 18, 2001 to September 22, 2002)
Fondation Cartier pour l'art contemporain (Paris), November 18, 2001 to March 10, 2002
The Hayward Gallery (London), July 11 to September 22, 2002
---