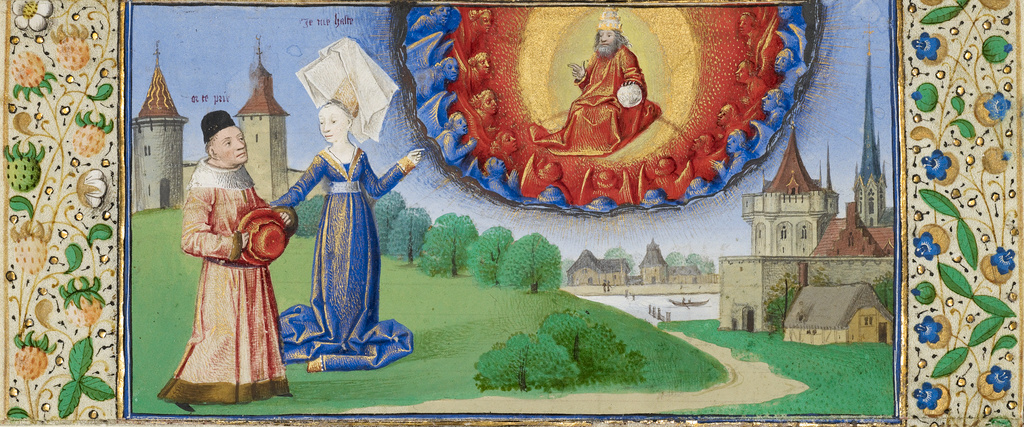 Open Content images tend to be large in file-size. To avoid potential data charges from your carrier, we recommend making sure your device is connected to a Wi-Fi network before downloading.
Title:
Philosophy Instructing Boethius on the Role of God
Place:
Paris, France (Place created)

Medium:
Tempera colors, gold leaf, and gold paint on parchment
Dimensions:
Leaf: 7 x 17 cm (2 3/4 x 6 11/16 in.)
This cutting probably accompanied the final chapter of Boethius's The Consolation of Philosophy, where Boethius and Philosophy, personified as an elegant woman, discuss the nature of God. God appears above in a brilliantly colored, glowing aureole surrounded by cherubim and seraphim. This God, depicted as an elderly man, holds an orb in his left hand that symbolizes his dominion over the earth while offering a sign of blessing with his right. The text that once accompanied this image explained that, "God has foreknowledge and rests a spectator from on high. . . . the ever-present eternity of his Vision dispenses reward to the good and punishment to the bad."
The Apocalypse and Other Visions in Medieval Illuminated Manuscripts (April 16 to June 30, 1991)
The J. Paul Getty Museum (Malibu), April 16 to June 30, 1991
French Illumination in the Late Middle Ages (October 15 to December 29, 1991)
The J. Paul Getty Museum (Malibu), October 15 to December 29, 1991
Illuminated Secular Manuscripts (January 24 to April 9, 1995)
The J. Paul Getty Museum (Malibu), January 24 to April 9, 1995
Ten Centuries of French Illumination (April 23 to July 7, 1996)
The J. Paul Getty Museum (Malibu), April 23 to July 7, 1996
French Manuscript Illumination of the Late Middle Ages (August 3 to September 26, 1999)
The J. Paul Getty Museum at the Getty Center (Los Angeles), August 3 to September 26, 1999
The Medieval Bookshelf: From Romance to Astronomy (January 24 to April 9, 2006)
The J. Paul Getty Museum at the Getty Center (Los Angeles), January 24 to April 9, 2006
French Manuscript Illumination in the Middle Ages (January 23 to April 15, 2007)
The J. Paul Getty Museum at the Getty Center (Los Angeles), January 23 to April 15, 2007
Stories to Watch: Narrative in Medieval Manuscripts (February 22 to May 15, 2011)
The J. Paul Getty Museum at the Getty Center (Los Angeles), February 22 to May 15, 2011
Untold Stories: Collecting and Transforming Medieval Manuscripts (February 26 to May 12, 2013)
The J. Paul Getty Museum at the Getty Center (Los Angeles), February 26 to May 12, 2013
---