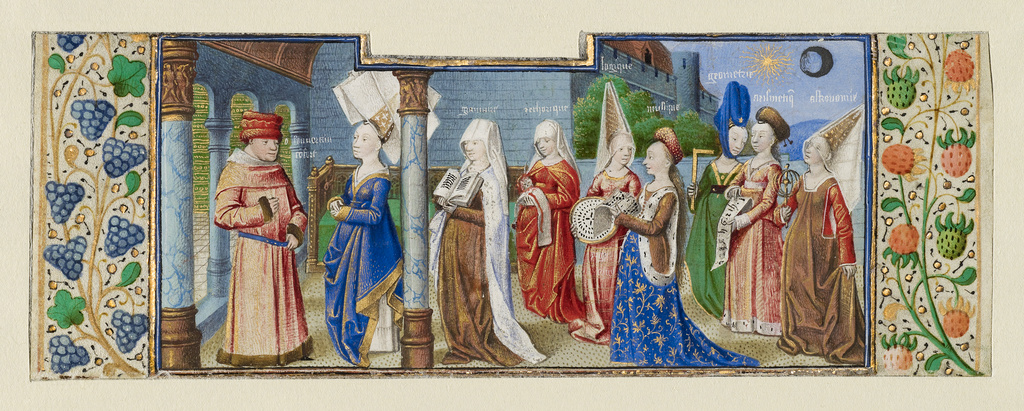 Open Content images tend to be large in file-size. To avoid potential data charges from your carrier, we recommend making sure your device is connected to a Wi-Fi network before downloading.
Title:
Philosophy Presenting the Seven Liberal Arts to Boethius
Place:
Paris, France (Place created)

Medium:
Tempera colors, gold leaf, and gold paint on parchment
Dimensions:
Leaf: 6 x 17 cm (2 3/8 x 6 11/16 in.)
On the far left, Boethius speaks to Philosophy, who was his "sovereign comfort," as the inscription between them reads. Philosophy presents him with personifications of the seven liberal arts, the basic studies taught in medieval universities, emphasizing that they assist the study of philosophy. From left to right, an inscription and an attribute identify each of the liberal arts: Grammar, Rhetoric, Logic, Music, Geometry, Arithmetic, and Astronomy. Grammar, for example, holds an open book; Music holds a sheet of music. All seven are represented as young women dressed at the height of fashion, headed by Philosophy who herself wears an elaborate headdress known as an hennin.
The Apocalypse and Other Visions in Medieval Illuminated Manuscripts (April 16 to June 30, 1991)
The J. Paul Getty Museum (Malibu), April 16 to June 30, 1991
French Illumination in the Late Middle Ages (October 15 to December 29, 1991)
The J. Paul Getty Museum (Malibu), October 15 to December 29, 1991
Harmonies of Heaven and Earth: Musicians and Instruments in Medieval and Renaissance Manuscripts (January 25 to April 10, 1994)
The J. Paul Getty Museum (Malibu), January 25 to April 10, 1994
Illuminated Secular Manuscripts (January 24 to April 9, 1995)
The J. Paul Getty Museum (Malibu), January 24 to April 9, 1995
Illuminating the Mind's Eye: Memory and Medieval Book Arts (July 23 to October 6, 1996)
The J. Paul Getty Museum (Malibu), July 23 to October 6, 1996
French Manuscript Illumination of the Late Middle Ages (August 3 to September 26, 1999)
The J. Paul Getty Museum at the Getty Center (Los Angeles), August 3 to September 26, 1999
The Medieval Bookshelf: From Romance to Astronomy (January 24 to April 9, 2006)
The J. Paul Getty Museum at the Getty Center (Los Angeles), January 24 to April 9, 2006
French Manuscript Illumination in the Middle Ages (January 23 to April 15, 2007)
The J. Paul Getty Museum at the Getty Center (Los Angeles), January 23 to April 15, 2007
Fashion in the Middle Ages (May 31 to August 14, 2011)
The J. Paul Getty Museum at the Getty Center (Los Angeles), May 31 to August 14, 2011
Untold Stories: Collecting and Transforming Medieval Manuscripts (February 26 to May 12, 2013)
The J. Paul Getty Museum at the Getty Center (Los Angeles), February 26 to May 12, 2013
---