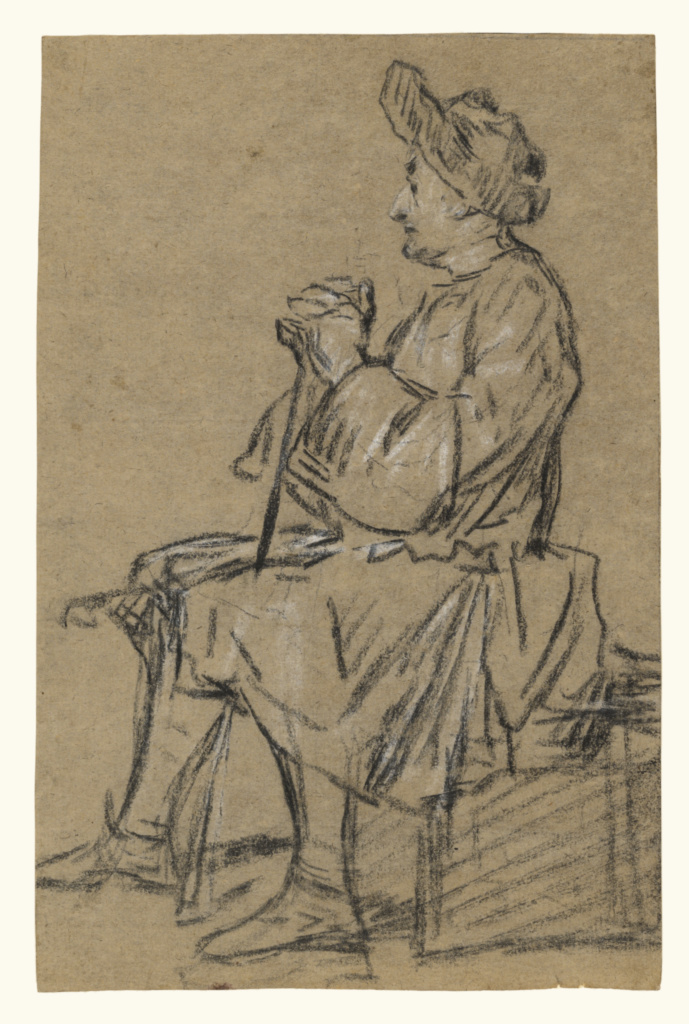 Study of a Seated Man (recto); Study of a Male Nude (verso)

Jean-Siméon Chardin (French, 1699 - 1779) 25.6 x 16.7 cm (10 1/16 x 6 9/16 in.) 85.GB.224
Not currently on view
Title:
Study of a Seated Man (recto); Study of a Male Nude (verso)
Dimensions:
25.6 x 16.7 cm (10 1/16 x 6 9/16 in.)
Jean-Siméon Chardin had the ability to infuse the most ordinary scenes of everyday life with an aura of dignity and value. In this simple drawing, a man wearing a large brimmed hat and long frock coat relaxes with his cane in his hands on a square box or stool and looks away over his right shoulder. Chardin built up the forms with a series of rapid, somewhat heavy, black lines, heightened with additional strokes of white chalk that give a sense of immediacy and vibrancy to the otherwise static image. With a few bold strokes, he established a mood of quiet contemplation generated by his own direct observation and that of the seated man, who gazes off into the distance. Chardin made this figure study in preparation for a painting.

On the verso, Chardin drew an académie,a study of a nude man, probably made during his early artistic training. All of Chardin's known drawings date from his early career, as he gave up draftsmanship by the 1730s.
-
Private Collection, Paris
French Master Drawings (December 3, 1991 to February 16, 1992)
The J. Paul Getty Museum (Malibu), December 3, 1991 to February 16, 1992
Drawings from the J. Paul Getty Museum (May 24 to August 8, 1993) (25; recto)
The Metropolitan Museum of Art (New York), May 24 to August 8, 1993
Drawings from the J. Paul Getty Museum (October 29, 1993 to January 23, 1994) (98; recto)
Royal Academy of Arts (London), October 29, 1993 to January 23, 1994
Figure Drawings (December 17, 1996 to April 6, 1997) (recto)
The J. Paul Getty Museum (Malibu), December 17, 1996 to April 6, 1997
French Drawings from the Age of Greuze (September 10 to December 1, 2002) (recto)
The J. Paul Getty Museum at the Getty Center (Los Angeles), September 10 to December 1, 2002
---