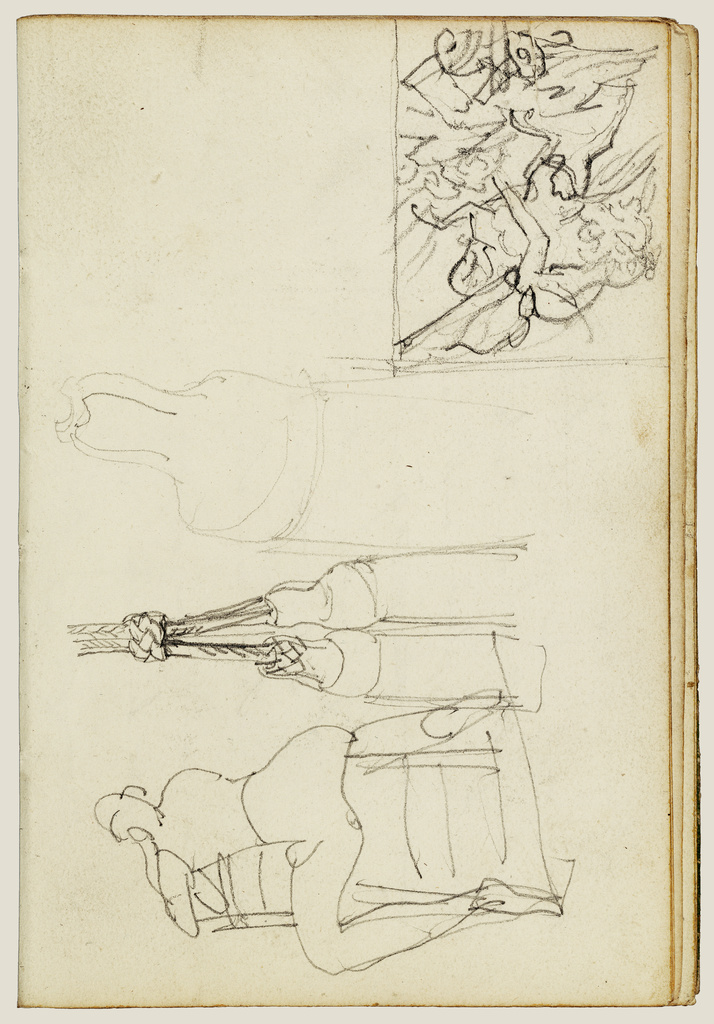 Open Content images tend to be large in file-size. To avoid potential data charges from your carrier, we recommend making sure your device is connected to a Wi-Fi network before downloading.
Not currently on view
Title:
Tassels, seated figure from behind chair, thumbnail study of Charging Chasseur
Dimensions:
15.2 x 10.6 cm (6 x 4 3/16 in.)
In addition to the various sketches of a figure seated back-to-front on a chair, two tassels, and possibly a chair, a quick sketch in the corner of this sheet fascinates scholars today. Théodore Géricault turned his sketchbook upside down to draw an early version of his first important painting, Charging Chasseur. He brashly presented the final copy at the venerable Paris Salon in 1812, when he was only twenty-one years old.

In both the sketch and the final work in the Musée du Louvre, an officer turns to look behind him as his horse rears and tries to flee. Géricault is said to have drawn his inspiration for the scene from seeing a carriage horse bolt on the outskirts of Paris. Still an inexperienced draftsman, he found the scene difficult and experimented numerous times, in pencil and in oils, before arriving at the final composition.
---