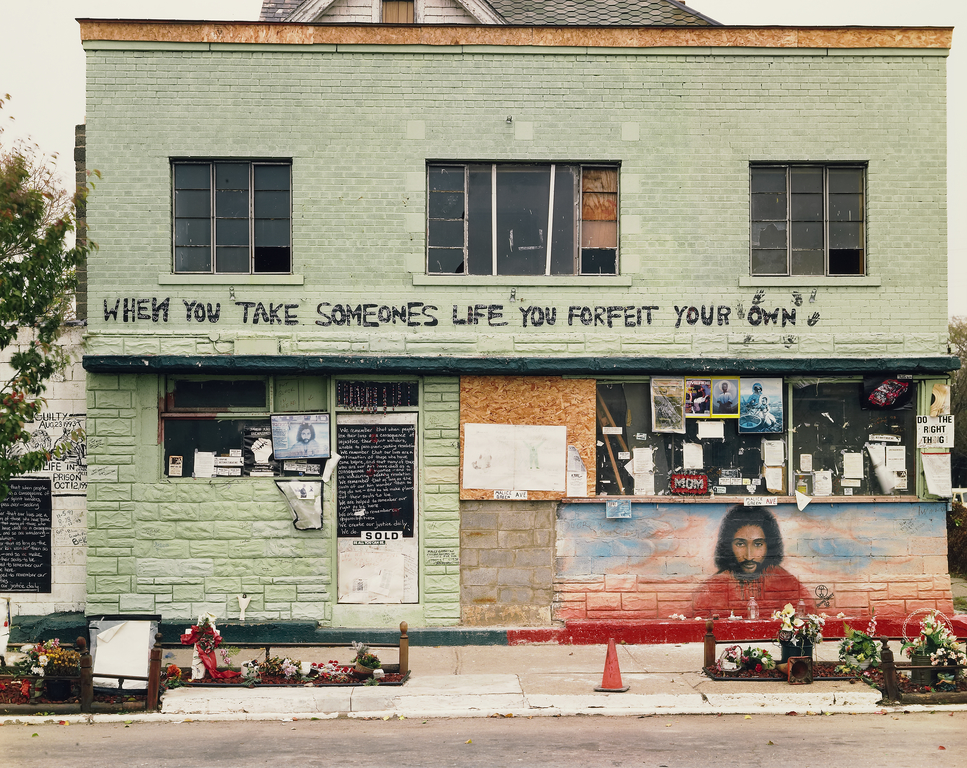 Warren Avenue at 23rd Street, Detroit, Michigan

Joel Sternfeld (American, born 1944) 47.6 x 60.3 cm (18 3/4 x 23 3/4 in.) 98.XM.225.5
Not currently on view
Title:
Warren Avenue at 23rd Street, Detroit, Michigan
Place:
Detroit, Michigan, United States (Place created)

Date:
negative October 1993; print 1994
Dimensions:
47.6 x 60.3 cm (18 3/4 x 23 3/4 in.)
Credit Line:
Gift of Nancy and Bruce Berman
Malice Green's death in 1992 after a police beating at this Detroit street corner fueled ongoing public outrage in the United States over police brutality. In 1993 Joel Sternfeld began a photographic series documenting the locations of such nationally publicized crimes, sometimes years after they had occurred. Building on the power of memory in the experience of landscape, Sternfeld's series recalls the work of Civil War photographers who returned, well after the war, to the sites of important battles. Cleared of bodies and other visual evidence, both groups of photographs mix elements of landscape, memorial, and document.
- 1998
Nancy and Bruce Berman Los Angeles, CA, U.S.
William Eggleston and the Color Tradition (October 26, 1999 to January 30, 2000)
The J. Paul Getty Museum at the Getty Center (Los Angeles), October 26, 1999 to January 30, 2000
Where We Live: Photographs of America from the Berman Collection (October 24, 2006 to February 25, 2007) (149)
The J. Paul Getty Museum at the Getty Center (Los Angeles), October 24, 2006 to February 25, 2007
---