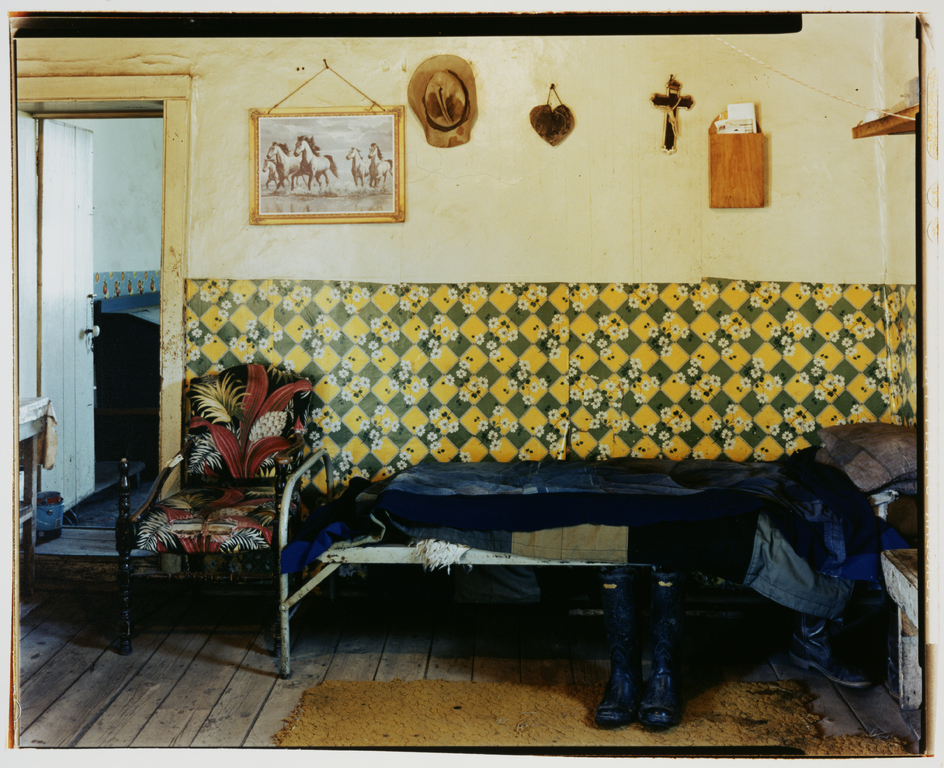 Celedonio Gallegos's House, Llano de San Juan, New Mexico

Alex Harris (American, born 1949) 47 x 58.6 cm (18 1/2 x 23 1/16 in.) 98.XM.214.7
Not currently on view
Title:
Celedonio Gallegos's House, Llano de San Juan, New Mexico
Places:
United States (Place created)
Llano de San Juan, New Mexico, United States (Place depicted)

Date:
negative June 1985; print 1994
Dimensions:
47 x 58.6 cm (18 1/2 x 23 1/16 in.)
Credit Line:
Gift of Nancy and Bruce Berman
In presenting Caledonio Gallego's vibrantly decorated bedroom, Alex Harris revealed an individual's daily life as well as his human presence. After several months of living and working in a small Hispanic village in northern New Mexico, Harris realized that the photographs he made of his neighbors' vividly decorated living rooms, bedrooms, and kitchens were as descriptive of their inhabitants as any conventional portrait. As a result, he began to focus less on the human subject in his photographs and more on the way a lived-in space betrays a specific presence.
- 1998
Nancy and Bruce Berman Los Angeles, CA, U.S.
Education Resource

Subjects

Grades

Format

"Reading" Objects and Their Owners

In this lesson students examine the connection between a person's home and his or her personality.

Visual Arts; English–Language Arts; ESL (English as a Second Language)

Adult Learners

Single Class Lesson
---