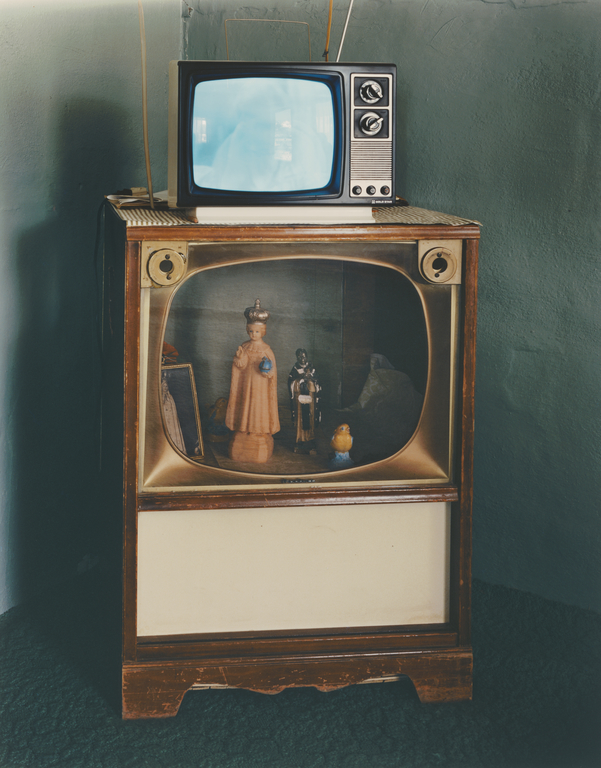 Abelino's Mother's House, Las Vegas, New Mexico

Alex Harris (American, born 1949) 56.5 x 44.5 cm (22 1/4 x 17 1/2 in.) 98.XM.214.1
Not currently on view
Title:
Abelino's Mother's House, Las Vegas, New Mexico
Place:
Las Vegas, New Mexico, United States (Place created)

Date:
negative January 1984; print 1993
Dimensions:
56.5 x 44.5 cm (22 1/4 x 17 1/2 in.)
Credit Line:
Gift of Nancy and Bruce Berman
Is Alex Harris mocking television or religious icons? He took this photograph, a still life from a series entitled "Red White Blue and God Bless You," as an intimate glimpse into the co-existence of secular and sacred culture in the lives of his adopted community in northern New Mexico.
- 1998
Nancy and Bruce Berman Los Angeles, CA, U.S.
William Eggleston and the Color Tradition (October 26, 1999 to January 30, 2000)
The J. Paul Getty Museum at the Getty Center (Los Angeles), October 26, 1999 to January 30, 2000
---