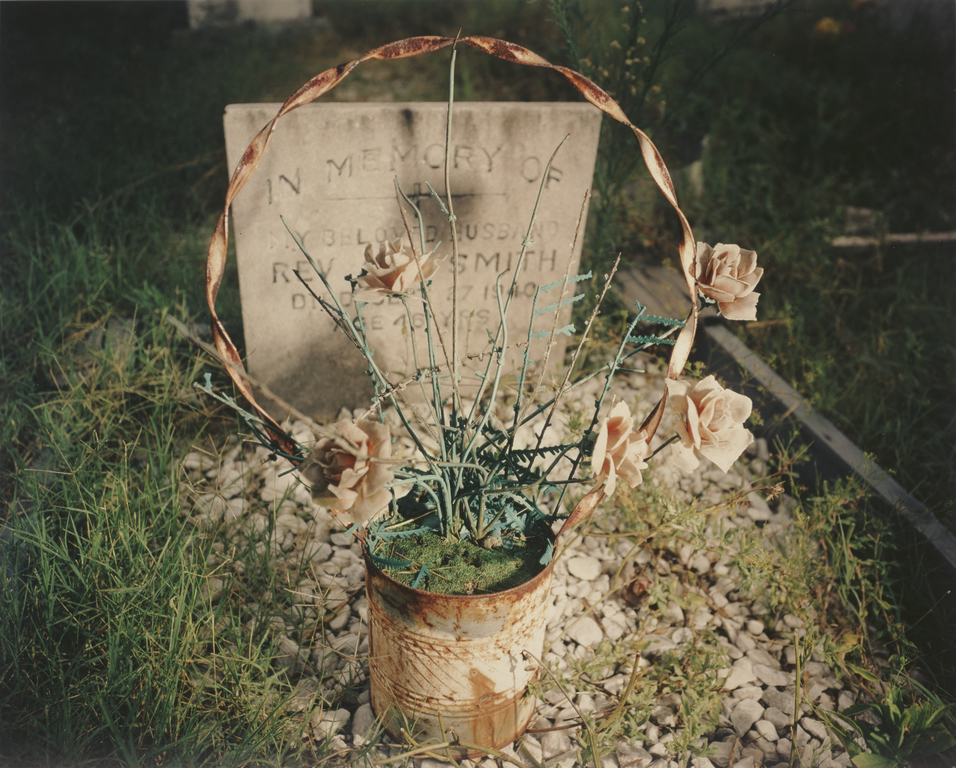 Coffee Can Wreath, New Orleans, Louisiana

William K. Greiner (American, born 1957) 38.1 × 47.7 cm (15 × 18 3/4 in.) 98.XM.212.2
Not currently on view
Title:
Coffee Can Wreath, New Orleans, Louisiana
Places:
United States, North America (Place created)
New Orleans, Louisiana, United States, North America (Place depicted)

Date:
negative 1989; print 1995
Dimensions:
38.1 × 47.7 cm (15 × 18 3/4 in.)
Credit Line:
Gift of Nancy and Bruce Berman
Gentle colors, a dilapidated, long-abandoned artificial-flower arrangement, and weeds overrunning the scene create an appropriately nostalgic tone and underscore the irony of this "forgotten memorial." Capturing the melancholy of such subjects as a neglected gravesite, William Greiner's series of cemetery photographs called "The Reposed" continued a tradition begun with post-mortem photographs in the 1800s. While all photographs are arguably memorials of people and moments past, this series deals more explicitly with death and photography's peculiar relationship to it.
- 1998
Nancy and Bruce Berman Los Angeles, CA, U.S.
William Eggleston and the Color Tradition (October 26, 1999 to January 30, 2000)
The J. Paul Getty Museum at the Getty Center (Los Angeles), October 26, 1999 to January 30, 2000
---